The Promise of Renewables in Canada's True North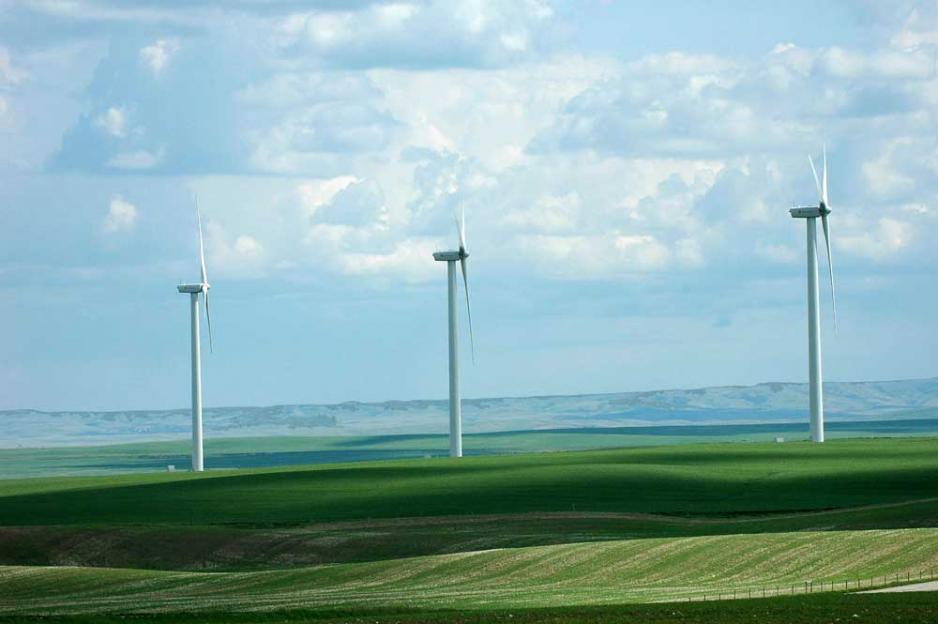 Nunavut runs on 99.94 percent diesel fuel. But with 13 of 17 diesel power plants deemed "aging, underperforming and at capacity" by the federal government, a newly formed alliance of energy experts hopes to exchange oil engines for solar panels and wind turbines.
Nunavut runs on 99.94 percent diesel fuel. But with 13 of 17 diesel power plants deemed "aging, underperforming and at capacity" by the federal government, a newly formed alliance of energy experts hopes to exchange oil engines for solar panels and wind turbines.
At last month's historic meeting between US President Barack Obama and Canadian Prime Minister Justin Trudeau in Washington, DC, the two leaders pledged to work together towards a clean energy future. In the wake of the UN Paris Agreement, Canada and the United States pledged to accelerate clean energy and technology innovation exchange in North America through bilateral cooperation.
Last week that pledge got an Arctic boost when six organizations joined forces to reduce diesel power generation and expand large-scale renewable energy in the Canadian Arctic. The groups involved include the Waterloo Institute for Sustainable Energy, WWF Canada, the Pembina Institute, Borden Lander Gervais LLP, Tugliq Energy Co., Qikiqtani Inuit Association, and the Alaska Center for Energy and Power.
The group hopes to have at least three northern communities running large-scale, renewable energy projects within the next four years. While small in number, the success of this modest goal would be a huge step for a country where roughly 300 communities are diesel-dependent.


The High Costs of Diesel Generation
Nunavut runs on 99.94 percent diesel. With no grid connecting the Canadian north, most Canadian communities in Nunavut are served by their own diesel-fired power plant. 13 out of 17 of these plants are over three decades old at the end of their design lives. Aptly put by a Senate report published last year, they are "aging, underperforming and at capacity," held together with "duct tape and twine."
While burning diesel adds to global warming, it has even more devastating local effects on Canada's Arctic communities.Black carbon - the soot produced from diesel generators - darkens on ice and snow which, in turn, quickens the melting process. It also creates substantial air pollution, which has been linked to health impacts including higher rates of asthma and respiratory issues. Importing diesel also comes with a high financial cost for northern economies and families. The Government of Nunavut estimates that it spends about one fifth of its annual budget on energy, putting further pressure on already limited resources available for underfunded schools, mental health programs, and overcrowded public housing. Electricity costs in some communities have reached peaks of over 10 times the average Canadian price on a per kilowatt-hour basis.


The Need for Baseline Data
Following in the footsteps of Yukon and the Northwest Territories, thus far most research on bringing renewables to Nunavut has been based on hydropower. While hydro offers a cheap source of power over the long term, it comes with expensive upfront capital costs. Last year at a territory hearing on hydro and tidal energy projects, Premier Peterson declared those projects to be on hold, "As a government, we simply cannot afford mega-projects here in Nunavut."
Wind and solar photovoltaic technology are technically viable and offer reliable, affordable, and resilient energy – but more baseline data needs to be collected on these renewable sources. The first task of the newly formed alliance of non-governmental groups is to better understand wind and solar potential in 17 pilot communities in Nunavut and the Northwest Territories. The study, currently being conducted by the University of Waterloo in Ontario, will measure the potential for renewable energy and present their findings at a meeting this fall in Iqaluit, where locals will be invited to provide project input.


Getting By With a Little Help from Ottawa
At the First Ministers Meeting in Vancouver in February of this year, Prime Minister Trudeau and his provincial and territorial counterparts kicked off a six-month process of establishing a pan-Canadian framework for combatting climate change. In its concluding communiqué, the Government of Canada committed to "advance efforts to eliminate the dependence on diesel in Indigenous, remote, and Northern communities – and use renewable, clean energy as a replacement."
To follow up on it's commitment, the latest Liberal federal budget dedicated $10.7 million over two years to help northern and indigenous communities off the grid and reliant on diesel power to build renewable energy projects. This appropriation of federal funding is in addition to a $2.24 billion, five-year green infrastructure fund for First Nations communities.
These resources are an important step in not only advancing tangible renewable projects on the ground; the allocation of federal funds shows strong government support for a green transition in the True North for future energy and economic security for some of Canada's most at risk communities to a changing climate.


Cross-Border Collaboration
Showcased in Part One of this High North News series on renewable energy in the Arctic, Alaska has been building its expertise in microgrid technology and renewable energy since the 1980s. According to Gwen Holdmann, Director of the Alaska Center for Energy and Power and a member of the newly formed alliance, about 70 of Alaska's 200 communities are connected to grid-scale renewable energy, including nearly 40 wind projects, hydro, solar, geothermal, and biomass.
The biggest barriers to bringing renewables to Nunavut are capacity gaps, awareness gaps regarding the potential environmental and economic benefits of renewables, and the lack of economies of scale remote nature and small populations in Northern communities. But having Alaskan experts like Ms. Holdmann on the renewable alliance who have on-the-ground experience implementing renewable energy projects in the Arctic holds the potential overcome those barriers.
And, ultimately, it is civilian cross-border energy ambassadors like Ms. Holdmann that hold the promise to make President Obama and Prime Minister Trudeau's vision of a renewable North a reality in the year to come.
Read also the first part of this series: