Op-Ed: Historic Arctic Mayoral Declaration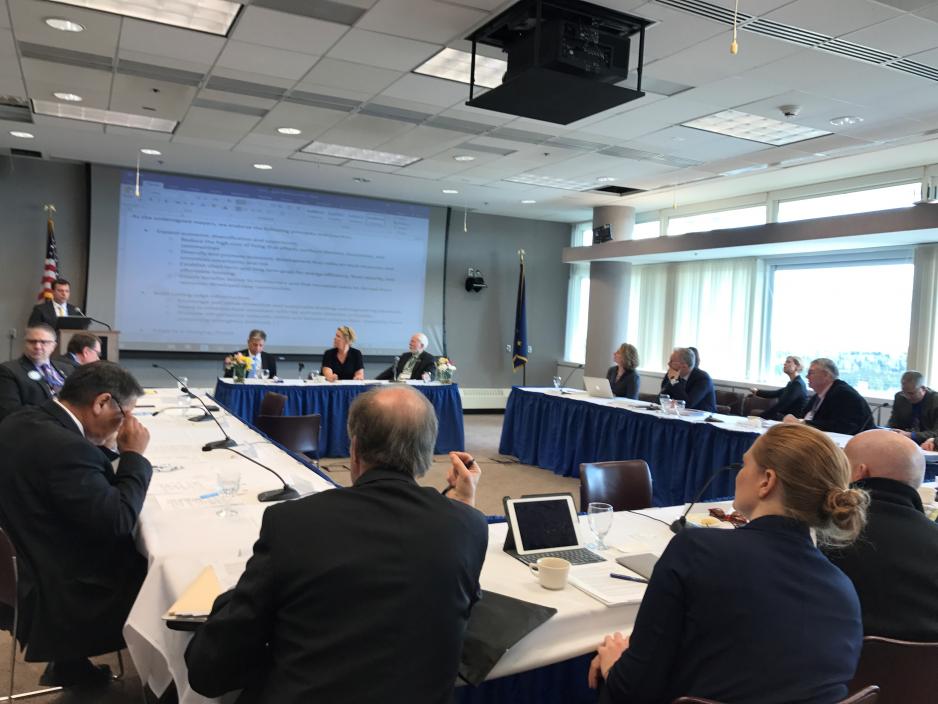 To save the world, we need new voices and new levels of governance.

To save the world, we need new voices and new levels of governance. 
May 11th, 2017 marks a historic day for mayors in the Arctic region. Twelve mayors from five countries - the United States, Canada, Finland, Iceland and Norway - agreed on the first-ever Arctic Mayors' Declaration. This is an important next step in advancing local circumpolar cooperation in the Arctic discourse, giving a voice and space for local leaders in developing the pan-Arctic future.
The Arctic holds 4 million people, 0.06 percent of the world's population who live and strive at 15 percent of the planet's surface, in 8 different countries - and, what is very often described as, in a distance.


But in more than 400 Arctic communities, the northerners all live in the center: Center of their own lives, of their part of the world and of their health, wealth, education, transportation, energy, infrastructure, welfare and businesses. 


And that is how we secure sustainability, growth, future, wellbeing in the Arctic, for the Arctic: By the people, their knowledge, their competence, their possibilities and challenges. 
Together the Mayors create building blocks for sharing knowledge among themselves and to the world and to find best practices for both potentials and challenges: Multicultural societal wellbeing, innovation both required and requested, technology, smart solutions and social and educational development. 


Climate change 
Arctic climate change is transforming the region with serious global economic, security, and environmental repercussions. This will demand big changes for small societies in the Arctic, and it will demand new cooperation and new levels of partnerships to be able to meet the challenges. Both globally and politically, trough societal cooperation crossing time and space and trough new layers of governance. 
In other words, to be able to fulfil international sustainability goals, meet national challenges, and find solutions we need collaboration between local, regional and central level. We also need local level to learn from each other and develop smarter solutions on energy, transportation, infrastructure, communications and not the least to take advantage of the future digital opportunities for SAR, health, education and real time information. 
Cathleen Kelly, Senior Fellow, Center for American Progress points out that the global costs of Arctic climate change will be astronomical, reaching $7 trillion to $90 trillion between 2010 and 2100. An warming Arctic also creates flooding coastal communities, potential increased instability in vulnerable regions, and a strain on humanitarian and disaster response resources. There's is most certainly a sense of urgency, and a need for all hands on deck. 


Common and unique 
Mayors missions is creating sound societies for their people & municipalities. However, as in any layer of governance the responsibility goes beyond that of individuals and communities. In the Arctic we share common, and unique, positions and possibilities for further development. And we share the urgent need to a sustainable global development. 
Arctic mayors share the responsibility for the future of our region and the world, and sharing is of the essence. As Mayor Karl Kassel from Fairbanks North Star Borough, Alaska said in his opening remarks, "there is a new sense of collaboration in the air".
Local government officials must work together, learn and share best practices.
The roundtable focus on collaborative potential between mayors from different regions, still sharing several similar challenges. All with the aim to improve the wellbeing of the people of the Arctic and the Arctic global impact.
Working groups then addressed issues of importance to communities and outlined potential solutions. These groups addressed principals and practises agreed upon by the Mayors concerning: 
Expand economic diversification, opportunity and local benefits. 

Build cutting egde infrastructure. 

Assume responsibility and provide leadership in our adaptation to a changing climate. 

Govern using the best available science, knowledge and technology. 

Promote healthy, equitable communities trough inclusion and cooperation. 



Local input 

The meeting concluded with the mayors working together to complete the Resolution of Arctic Mayors. The discussions were rich with input from all participants within an environment of collaboration to strengthen the bonds between Arctic communities to build a resilient region. The mayors agreed that there is an urgent need to include the input of local in decision-making processes and solutions to challenges facing the Arctic region. 
Mayor Ida Pinnerød from Bodø Kommune, Norway added one important point of view to the roundtable that shows the global impact in its true broad sense: 
"Even though we keep on being tested by harsh living conditions and climate change, our part of the world still remains as the most peaceful part of the globe - a High North arena of hope."

In an all inter-connected world, let us keep in mind that the real building block are trust, and all development including tackling climate climate change, demands trust. And trust are created locally, regionally, nationally and internationally - by people communicating and creating change trough their lives, education, business and social development. 
In the declaration, it is stated: "Local government in the circumpolar region has a special role – to deliver essential public services; convey the priorities of residents at the most fundamental level to state, national and international decision-makers; and work to ensure that the community itself is resilient and sustainable in the long term."
And this is the essence of the Arctic Mayoral Declaration – bringing together local leaders for global change.