Ole (70) and Asbjørn (66) Live an Arctic Entrepreneur Life: Want to Change Norwegian Animal Husbandry with Larvae
When Asbjørn (66) and Ole (70) Torrisen reached retirement age, they returned to the High North and started farming larvae. Now, they want to change Norwegian food production providing local feed for livestock animals and farmed fish, produced in Norway. They just have to change the law first.   
When you arrive at the old fish landing facility on the outskirts of Åmøy island in North Norway, the first thing you notice is the odour. The instant scent of ammonium opens your airways with a bang and gives an idea about what you can expect to find inside the buildings of the old fish landing facility at Engavågen, Meløy municipality. 
The second thing you encounter are two brothers with broad smiles and matching blue coveralls. They are Asbjørn (66) and Ole (70) Torrisen. Together with three more siblings they own the rather recently established company Ecoprot AS. 
Age is no obstacle
The siblings own the ground, so establishing the company right here, on the shores of the Norwegian Sea, came naturally. What is not quite as natural is establishing your own entrepreneurial company when you have more or less reached retirement age. 
"We have to make use of our competence, even though we are getting older", the brothers say in unison. 
They chose to start farming black soldier fly larvae. And that is the core of Ecoprot AS. 
"It was Ole's idea", says the younger Torrisen, who is the manager of the company. 
From idea to action 
He was educated at the Fisheries University College in Tromsø. His brother Ole, on the other hand, took the research route. And when he retired from the Norwegian Institute of Marine Research (NIMR) and Nord University at the proper age, there was a short distance from ideas to actions. 
A larvae farm was born. 
The brothers show us the way into the facilities. Some of the walls of the old fish landing building have been torn down, and their facilities are bright and grand. They show the way to a locked door. The brothers make a stop and feel that it is time for a briefing. 
"This is the fly room. There may be some flies buzzing about outside their containers", Asbjørn Torrisen explains and unlocks the door. 
Inside, up to 100,000 black soldier flies and their offspring await. The flies require cheap maintenance and only live for about a week. During that time, they do not eat. They drink a little, mate and die. 
Waste turned fertilizer  
In the fall of 2019, Ecoprot received funding from Innovation Norway. In December that year, the first product was available on the market. initially, the product was frozen black soldier fly larvae used as feed for birds, reptiles, amphibians, fish and turtles. 
In addition, Ecoprot produced fertilizer for house plants and orchids as a by-product based on the waste from the larvae and the flies. Thus, production is completely waste-free, or what is referred to as having a circular economy. This means that all resources are exploited, and the end-product can be re-used. 
"Not many companies can boast a completely waste-free production", says Ole Torrisen. 
Stopped by the EU 
So, what is good about using larvae to feed farm animals? First of all, it must be emphasized that using animals and animal waste to feed other animals is currently prohibited through strict EU regulations. 
That also applies to insects and larvae, which are currently fed with vegetable products. Thus, a potential environmental benefit stemming from using locally produced insects in feed production for husbandry animals disappears through laws and regulations originating outside Norway. 
That said, farming insects to use as feed is a rather new thing in Europe. 
"We therefore lack basic knowledge about how safe it is or not to use various feed substrates for insects for public health, animal health and the environment", said Norwegian Minister of Agriculture and Food Olaug Bollestad (Christian Democrats) when challenged by MP Siv Mossleth (Centre Party) through two written questions in Parliament. 
Bollestad further refers to the need for more research and continues: 
"The [current] legislation has been developed to manage risk and based on an assessment of relevant risks. We secure ourselves safe food through adhering to regulations. When scientific documentation is not available, a principle of precaution should be applied." 
Like here.
Not many companies can boast a completely waste-free production   
A million tons of soy
Siv Mossleth argues that this praxis made sense when applied to husbandry animals, however, the regulations now represent an obstacle for developing a sustainable circular bioeconomy in which the resources in sludge from fish farming may be exploited in the production of insect larvae, which in turn can constitute part of concentrates in animal feed. 
"We are able to contribute to reducing soy import and increase Norwegian protein production and self-reliance based on waste products", Mossleth says. 
Every year, Norway imports a million tons of soy from a.o. Brazil.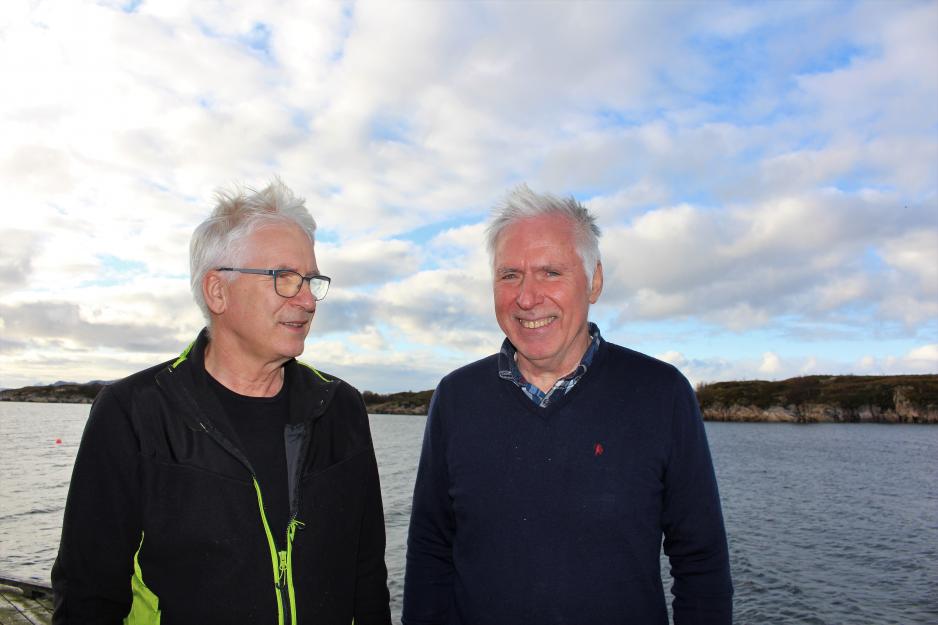 "It may not sound like much, however, imagine every citizen in Norway buying 50 kilograms of soy every day. This is farmed at the expense of rain forest, wildlife and not to forget the local population. And that is just the import to Norway", says Ole Torrisen. 
Replacing soy with larvae 
Soy is currently used as animal feed, fuel and human food. This, in turn, leads to large amounts of waste to be processed. Imagine parts of this soy being replaced with dried larvae from local farming facilities in which waste from flies and larvae is turned into fertilizer.
And the larvae can feed on sludge from fish farming plants, although that is not permitted at present.
Today, the larvae eat mainly foodstuff past their due date donated by a local shop as well as waste from Bådin brewery's production in Bodø.
Harvesting 
Inside the fly room, the larvae live in a series of blue boxes. New larvae first, then one can just follow the process throughout the room. Asbjørn Torrisen puts on gloves and digs his hand into one of the boxes. It reappears with a handful of white, bouncy larvae. 
"Can you feel the warmth? It means they are active and doing well", he says while his brother pours expired yoghurt into the larvae container. 
Asbjørn explains that the larvae must be harvested before they turn into pupas and become hard. 
"That is what we do here", Asbjørn says and opens the lid of a freezer. 
Tastes of bark and soil  
After the larvae have been killed in the freezer, a round in the microwave oven awaits in order to dry the larvae. Next to a wall, a small tray with larvae spins inside a microwave oven that is continually running in order to dry them. 
"We have worn out quite a few microwave ovens now, so we have to start thinking bigger", Ole says. 
The dried larvae are in a box on the floor. They have a grey hue. Asbjørn offers a very local snack and chews a few larvae to demonstrate. It tastes like bark with a hint of soil.
Fish waste as larvae feed 
"In nature, flies lay their eggs in cow dung. The larvae hatch and nature runs its course. The larvae are also feed for birds. If we get this through, we can use waste from the fish farming industry to feed the larvae, waste that the fish farming industry otherwise has to collect and manage as waste. Waste from fish farms is very nutritious and contains large amounts of fish feed, and it will eventually end up as new feed and then fertilizer", Asbjørn explains.
Production is fast, cheap and local.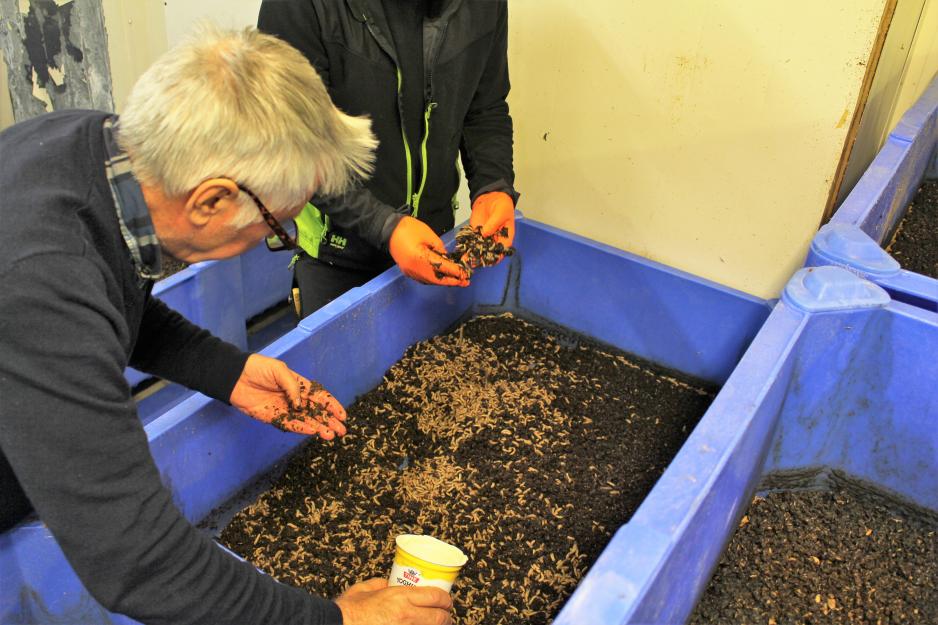 Approximately 400 million salmon smolt are produced in Norway annually. These are produced in land-based facilities accumulating some 40,000 tons of sludge. This sludge ends up at waste dumps, is burned or used as fertilizer. 
Nutritious sludge 
The amount of sludge will increase in coming years as fish farmers keep their fish in land-based facilities for longer periods of time, closed sea-based facilities are developed, and the production of salmon and trout is expected to increase.
The larvae efficiently transform waste into protein and fat, and also have antibacterial peptides killing unwanted bacteria.     
This waste has proven to be nutritious and rich in protein and fat. Ole Torrisen's old job, the Norwegian Institute of Marine Research, has proven that insect larvae can exploit this waste. Nor do the larvae accumulate unwanted substances or bacteria.
Larvae from the black soldier fly thus have the potential for becoming a key source of protein and fat for Norwegian husbandry animals, including farmed fish.
"It is also entirely safe. The larvae effectively transform waste into protein and fat, and also have antibacterial peptides killing unwanted bacteria. This is nature at its best", Ole Torrisen says. 
Delivering research 
The Ecoprot brothers argue it is time to change the regulations that prevent them from developing their company further. 
Siv Mossleth of the Centre Party believes Norway may contribute to reducing soy import and increasing Norwegian protein production and self-reliance while at the same time ensuring sustainable waste management. However, change requires research results.
And since the Torrisen brothers are not prone to any kind of laziness, there will be research conducted on this. 
Replace soy 
A business-oriented North Norwegian R&D program (research and development) in marine biotechnology, Matbit, has granted NOK 700,000 to a NOK 1.3 million research project about using sludge from fish farming as feed for black soldier fly larvae.
Cooperating partners include the NIMR, Nord University and Nordland Aqua, with Ecoprot as project manager. 
The Torrisen brothers have a bright view to the future.
"We started carefully and are currently producing 3,000 tons of larvae annually with fertilizer as a by-product. We also produce insect powder as feed for farmed fish and if all goes well, it can also replace the soy that is currently used to feed pigs and chicken", says Ole Torrisen. 
"Norwegian feed and Norwegian production, plain and simple." 
New factory 
They dream about expanding, and the brothers have their eyes on a property in Halsa that can accommodate a staff of 100 and a production of 80 tons of larvae. The only potential problem they see is logistics.
"The road leading here is not exactly suited for heavy transport", Asbjørn Torrisen says and squints towards the mainland. 
Yet the brothers see opportunities on the distant sky. 
"We will keep it up for as long as it works, and we definitely believe this to be the future. We just have to change the law first."
New Research Project on Fertilizer 
Ecoprot has, together with NIBIO, Invertapro AS, Norinsect, Flying Feed Fredrikstad AS and Jaastad Plant Academy, received a total allocation of NOK 8.8 million from the Norwegian Research Council for the project Innovation in Business. 
The project aims to develop a high-value new product based on organic waste. Together with insect larvae for protein, by-products from larvae production will account for 100 percent exploitation of current organic waste as well as give the insect companies legs to stand on. 
Ecoprot AS will, together with three other insect companies and one plant producer, provide documented knowledge, establish knowledge and experience-based cooperation and develop a multifunctional product. 
This article was originally published in Norwegian and has been translated by HNN's Elisabeth Bergquist.