An Odd Couple: Comics Combining Permafrost Research and Art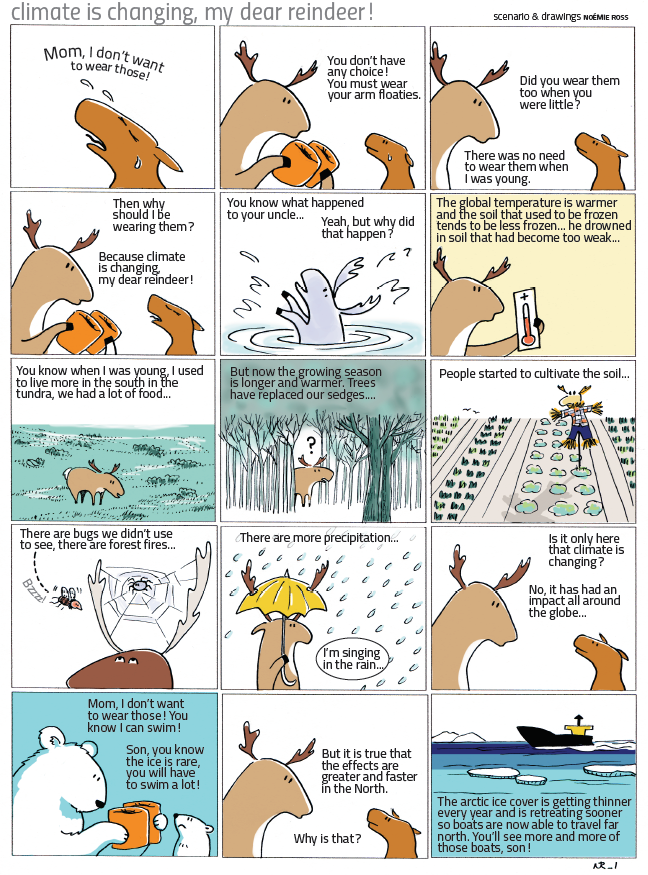 As the world warms, permafrost is thawing out at a devastating pace. An international project is pairing scientists with artists to explain these rapid changes through cartoons.

As the world warms, permafrost is thawing out at a devastating pace. An international project is pairing scientists with artists to explain these rapid changes through cartoons.
In an age time when science is easily politicized, communicating the science behind permafrost thaw can be difficult. Over the past two years, a group of young researchers is breaking disciplinary borders to explain permafrost research to the public and young students through comic strips.
It all began in 2014 when a group of young researchers came together from Canada and Europe to organize an international workshop on permafrost. Discussing the most important topics in the field, the group identified future priorities for permafrost research - landscape dynamics, thermal modeling, integration of traditional knowledge, spatial distribution of ground ice, and engineering issues ranked at the top.
But another priority came out of the gathering, not defined by gaps in research, but a gap in science communication.
"Usually, permafrost science is not really taught in schools," explains Dr. Frédéric Bouchard, a Lecturer in Geology at the University of Laval. "I had not really heard about permafrost until I started my MSc [Masters degree]," says Dr. Bouchard of his own experience. "If we want these important scientific questions to be tackled in the future, we must see more people involved in permafrost science, but we also need the general public (who usually pays for this research, via governmental funding agencies) to rally and believe in the importance of that research."
Dr. Bouchard is heading a new outreach project, Frozen Ground Cartoons, to make permafrost science more accessible. Funded by the International Permafrost Association, Frozen Ground aims to make permafrost science fun and accessible to children, their parents, and teachers through comic strips.


The Unfreezing of Frozen Ground
Two years after the initial idea, two artists and a team of 11 scientists, including Dr. Bouchard, have debuted their work at a recently launched website. The group is also compiling the cartoons into a 28-page booklet, including artist bios, project history, and a permafrost glossary for distribution by the end of 2017.
According to Dr. Bouchard, the main objective of this work "is to present permafrost science as cartoons, so in a funny/casual way, but still providing baseline scientific facts/information. This outreach project is for the general public, but with a specific aim at reaching the kids at schools. As a 'sideline' effect, we also hope to recruit the next generation of permafrost scientists."
Their work to engage more people in permafrost research and rally the general public to believe in the importance of that research is more important now than ever before.
"Permafrost is widespread in the circumpolar regions (several millions of square kilometres) and is affected by ongoing climate change," explains Dr. Bouchard. When permafrost thaws, it can wreak havoc on critical infrastructure built atop the ground that was assumed to be eternally frozen. "Whole villages have been constructed on permafrost. Roads, air strips and houses could be impacted by climate-induced permafrost degradation (ex: erosion, settlement). In fact, this is already the case in some northern communities."
But more than impacting Arctic and sub-Arctic communities, the thawing of permafrost releases immense amounts of greenhouse gasses that further contribute to global warming. "With recent warming, especially in the Arctic, permafrost can thaw and release water, sediments and chemical elements such as carbon," says Dr. Bouchard. "This has a large-scale impact on the global climate. So we should all be concerned about the fate of permafrost in the future. There is a need to inform people about what's happening and what can be expected in the future."


Making Permafrost Science Fun
At its core, the Frozen Ground Cartoons project is about bringing together permafrost researchers and artists to promote education and engagement in Arctic science. "We often see arts and science as two separate, really different worlds," Dr. Bouchard notes, "but as a scientist, I often have to use my creative thinking and skills. This was particularly true for this project. The artists were challenging us (the scientists) to use simpler, more evocative words in the stories. And we asked the artists to present accurate, up-to-date information. In a way, scientists were asked to be more artistic, and maybe artists were asked to be more scientific. I think that this is one of the main lessons I learned in this."
"Science can be really fun; permafrost science, even more," jokes Dr. Bouchard. And it's true. Flipping through the comic strips, readers can get a sense of not only the science behind the figures, but the time, collaboration, and enjoyment that went into making them. "And by the way," Dr. Bouchard adds, "this is only 'phase one'… we have been asked to translate the cartoons in several other languages. French, German, Inuktitut, Japanese, Chinese, even Hindi… so stay tuned!"