Arne O. Holm says

Nothing about Us without Us – Three Highlights from an Arctic Meeting Place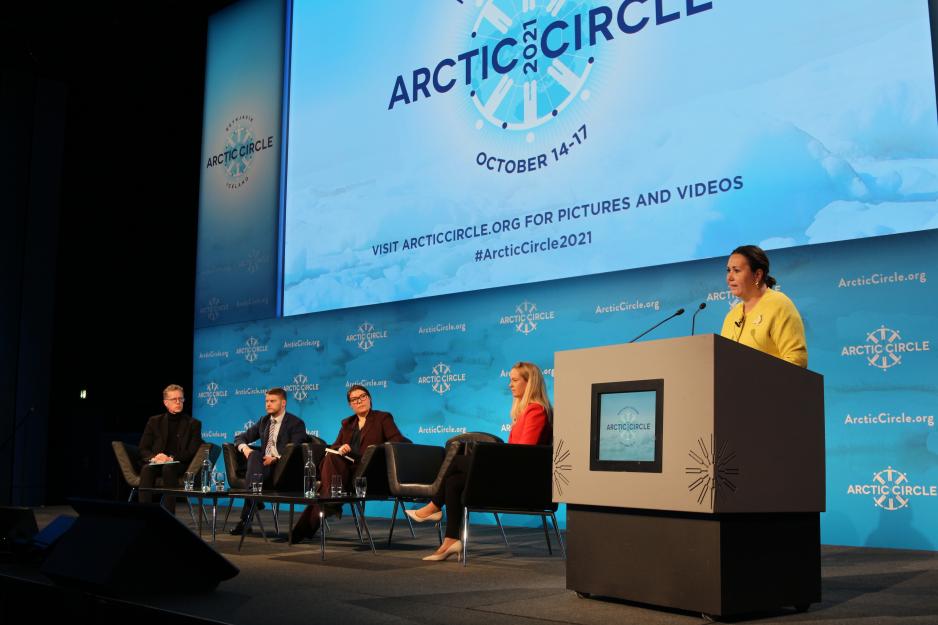 Commentary: As early as 500 years ago, the poet and priest John Donne summarized the first post-pandemic Arctic conference, the Arctic Circle 2021 in Reykjavik:
No man is an island entire of itself; every man is a piece of the continent, a part of the main.
More than 1,300 delegates from some 50 nations have for three full days emphasized Donne's main point; the fact that we are all parts of a larger context. The Arctic is at the center of politics, business, academia and security policies far beyond its geographical boundaries.
First; a quote
Not a new observation. However, behind the increased interest in the Arctic there have also been some clear changes occurring since the pandemic put a stop to human meetings.
Here is my own analysis of three such features in a tabloid short format for those of you who cannot afford to hang out at the Arctic conference market, yet are nerdy enough to believe that Arctic politics and business beats any TV dance show on a Saturday night.
The EU has replaced foggy speech with hardcore action
Therefore, I'll start off with a quote served by Greenlandic politician Aaja Chemnitz Larsen on-stage at Harpa Concert Hall in Reykjavik exactly on a Saturday evening:
Nothing about us without us.
There is no better or more precise way to put it, the demand that Arctic people are to be heard when Arctic policies are to be made. A necessary reminder, because not all demands and opinions from outsiders are adjusted according to life for those of us who actually live in this part of the world.
The quote also works excellently as a bridge to the first scene, or takeaway, from the new Arctic.
An EU wearing its big shoes
A rather toothless, and also ignorant, pre-pandemic EU has put its big shoes on and replaced foggy speech with hardcore action in its approach to the Arctic. The Union has acknowledged and realized that the people in the High North are not part of a museum exhibition. Compared with the EU, both Norway, Russia and the USA are environmental loggerheads and get a brutal snap across their fingers from the EU Commission, which requires coal, oil and gas to remain where they are.
In the ground, that is.
The EU requires more space in the Arctic and triggers a totally necessary debate about supranationalism in facing the climate issue.
America is back
While the EU requires more space, my next claim is that the USA is solidly back in the Arctic family again. At this year's Arctic Circle, the USA had perhaps the biggest delegation.
Donald Trump did what he knew best, in the Arctic too; that is: Tearing international cooperation apart. Now, several of the vacant Arctic positions in the American administration are once again filled with competence and will to cross-border co-operation. Few Americans realize that the USA is an Arctic state.
Few Americans realize that the USA is an Arctic state
Therefore, they do not know for instance that the Arctic Council – a body of Arctic states – is one of the most important open channels between Russia and the USA.
From the West to the East
My third and final observation is about a business policy shift from the West to the East. From his watchtower at China Investment Research, Henry Tillman tells about major investments in what the Chinese refer to as "The Polar Silk Road". Simply put, it is about a giant infrastructure initiative on land and sea from China towards the West.
It is primarily funded by China and Russia, who through this conquer new international market shares in amongst others energy and trade.
Western sanctions have left the road wide open for a Sino-Russian expansion second to none. In recent overview maps, the role of both Norway and Finland are invisible, unlike on the maps drawn up a couple of years ago.
The following example illustrates this development:
In August this year, Russia started rolling out a 12,560 kilometers long subsea fiberoptic cable through the Arctic. The cable is put down along Russia's northern coast from Teribreka to Vladivostok and is a technological and industrial cooperation between China and Russia. In Vladivostok, Russia there are heavy investments in building the world's most modern port for container transport between Asia and Europe.
A Sino-Russian expansion second to none
The original project, "Arctic Connect", which was to connect Kirkenes, Norway to Japan, was put on hold in May this year by both China and Russia, and will definitely never happen.
Back home again
Back home from Iceland, I see the new Norwegian government's Arctic strategy will invest heavily in research and education. That is the way to go, and quite necessary in order to be able to manage the challenges I have already mentioned.
In that context, it appears incomprehensible that the new government's clearest ambition in research and education is about re-establishing the college in Nesna, which has been decided shut down only two years ago.
John Donnes realized as early as in the 16th century that we are all a part of the world. That makes starting the new government coalition with overruling and weakening the North Norwegian university structure, our perhaps most important contribution to Arctic competence and influence, a rather bad idea.
This commentary was originally published in Norwegian and has been translated by HNN's Elisabeth Bergquist.