The Norwegian Government Wants to Win the High North with PM Erna Solberg as the Tour Guide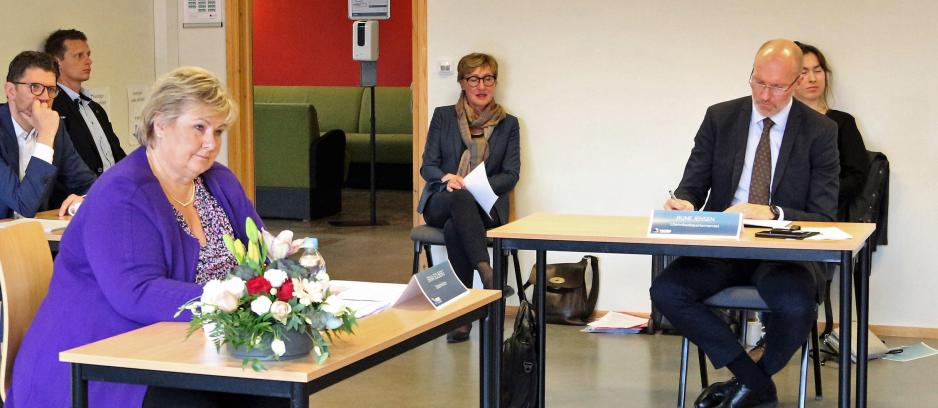 Commentary: Polar expeditions are a constitutional part of Norwegian history. And today, expedtion manager Erna Solberg enters Northern Norway along with 11 cabinet members. Only Svalbard has been excluded from this modern expedition into the High North.
But then again; Svalbard already feels politically abandoned after corona measures choked tourism in the real Arctic.
Other than that, the political itinerary for the Solberg government looks like a copy of Visit Norway's recommendations to Norwegians in a time when the very same pandemic has more or less closed the borders to the rest of the world.
They pop up everywhere
A Minister of Children and Families will appear within 24 hours in Leknes, Lofoten. A Minister of Justice and Preparedness will arrive in Harstad, while in Sandnessjøen they will meet with a Minister of Climate and Environment. In Lyngen, the table is set for the Minister of Local Government and Modernization, Sortland will welcome the Research and Education Minister, while Finnsnes on the beautiful Senja island will have to settle for a minister whose tasks are a mystery to most people, the Minister of Regional Development and Digitalization.
To mention but a few.
Expedition manager Erna Solberg visits both Bodø and Tromsø, where she – just like her cabinet members on tour – will listen to carefully timed input from academia and business, as well as people in general.
It is a political stunt with a serious backdrop. High North politics have long been more or less in hibernation and dialogue between the North and the South is characterized more by randomness than by systematic political work.
The battle over the High North
When the government now enters Northern Norway, Centre Party leader Trygve Slagsvold Vedum has already trawled the region chasing poor roads, shut-down police stations and county borders that can be dug out. He has found an audience up north. In the latest polls, the agrarian Center Party fights with Labor over being the biggest party in the Arctic. This has to do both with his own party's impressive progress, but also with a Labor that appears to be dwindling with every new poll.
Because even though the Conservatives perform well in the High North, the opposition currently appears to be the one able to win a majority in parliament, Stortinget, in the next September election, and thus in a position to decide who gets to hold government power.
However, one year is a long time in politics and right now we are witnessing a championship in High North politics.
I have already mentioned the Center Party's vocal attempts at putting the tooth paste back into the tube. It is all about reversing former political decision at a high pace.
A few weeks ago, the Labor party presented its draft Arctic policy with a thorough and in part very concrete manifesto.
Playing it like Bodø/Glimt
The Conservative Party had its annual national assembly last weekend. And just like Labor, the Conservatives state that the High North is the nation's most important strategic area, though without that fact being reflected in any way whatsoever in the rest of the party program.
Right now, the opposition appears to be the political version of the successful northern football team Bodø/Glimt. They rush ahead on the field and currently lead 5-0.
However, only the first half of the game is over so far. In November, the government will present its own whitepaper about the High North. That is also the official backdrop for Erna Solberg's polar expedition.
Playing it like Bodø/Glimt, leading 5-0 after the 1st half
Normally, a whitepaper to be presented in November would have been written by now. However, the Prime Minister is not happy with the content so far and sends her expedition partners out chasing political gains.
That too is fully in keep with Norwegian expedition culture.
For Northern Norway, the current political battle over the High North is an advantage.
Closing knowledge gaps
The meeting places, construed as they might be, are platforms that nevertheless can continue to closing some of the knowledge gaps that are increasing the further politics get away from the Oslo bowl. That is a fate we share with other parts of the country. It has been a long time since I heard a national news story from Trøndelag in Central Norway that was not about Trond Giske [current Labor party MP and former cabinet member who recently was forced to withdraw due to #metoo related issues].
We have the opportunity, at least for a while, to break through on a national level when High North politics pop up on the agenda. That is, after all, better than leaving a mark because of sexual harassment.
'The High North' sounds better than 'sexual harassment'
Because High North politics is a national and international project, however intensely the national debate tries to ignore this policy area.
After all, it is about a region that according to both the position and the opposition shall be robust enough to contribute to international peace and interaction in challenging times and that also is to fill the state's treasury chest, where oil in time is to be replaced by more long-term, sustainable profits.
This commentary was originally published in Norwegian and has been translated by HNN's Elisabeth Bergquist.