Norwegian company battles Canadian bureaucracy in the Arctic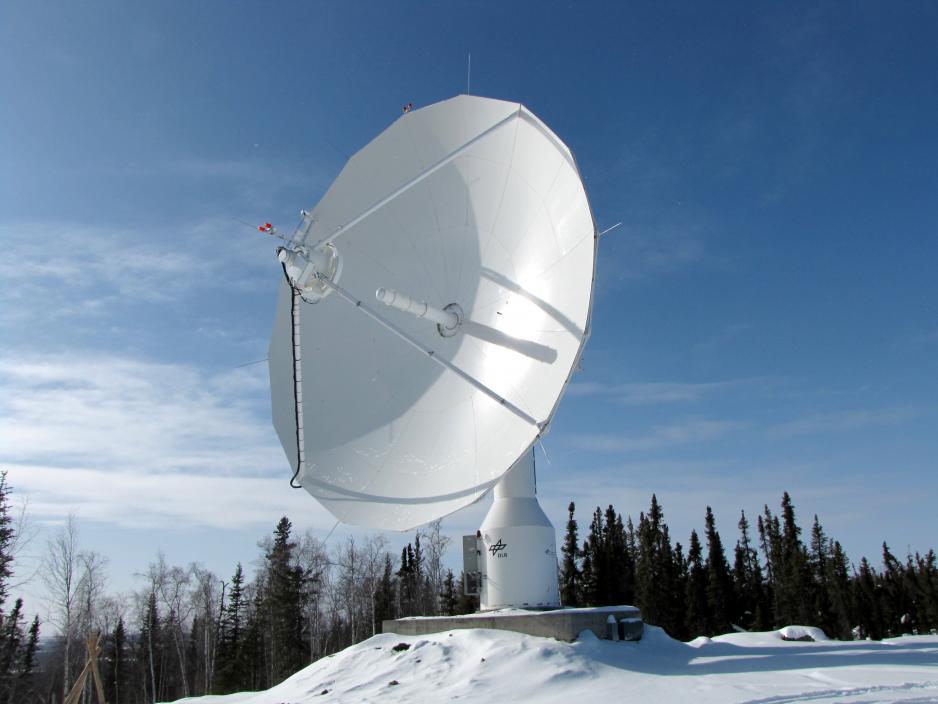 Norwegian space company Kongsberg Satellite Services  has been waiting since 2016 for a license to operate its ground receiving station in Inuvik, N.W.T.

Norwegian space company Kongsberg Satellite Services  has been waiting since 2016 for a license to operate its ground receiving station in Inuvik, N.W.T.


Tromsø-based Kongsberg Satellite Services (KSAT) currently operates an extensive array of ground receiving stations around the world. A leader in support services for polar satellites—with receiving stations in Tromsø, Svalbard, and in the Antarctic—KSAT is currently the only commercial provider able to cover all visible passes for polar orbiting satellites.


A costly stumbling block 

Despite having the technological savvy and experience required to operate in such extreme environments, KSAT's plans for a satellite receiver it built in Inuvik, N.W.T., have hit a costly stumbling block in the form of Canadian bureaucracy.
Looking to take advantage of Inuvik's strategic location and the completion of the Mackenzie Valley Fibre link in 2017, KSAT built a large satellite receiver in the town's satellite complex almost two years ago while another company, California-based Planet Lab, built four smaller receivers. Despite being ready for service in late 2016, all five receivers have remained offline as they await the proper licenses from the federal government. 


Getting started early 

In an interview with CBC earlier this year, the president and CEO of KSAT, Rolf Skatteboe, mentioned that it had been necessary to build the receivers prior to getting the final licensing approval due to the short building season in Canada's Arctic. Going into the application process, both KSAT and Planet Labs had expected licensing turnaround to take approximately 180 days.
One of the clients waiting for data from KSAT's receivers at the Inuvik site is the European Space Agency (ESA). In this particular case, the contract with the ESA would have required the receivers operational in January 2017.
As KSAT has successfully licensed 21 ground stations around the world, Skatteboe notes that he "did not expect any problems related to approval to receive … data from an ESA satellite, an organization where Canada also is an associated member." 


Why the delay? 

The delay in licensing is largely due to Canada's complex and outdated legislation surrounding the commercial uses of outer space.
Licensing for the radios needed to operate receiver station in Canada are required from the Department of Innovation, Science and Economic Development Canada (ISED). These licenses were issued to KSAT in February of this year.
But, as these receivers are also part of a remote sensing system, another license is required from Global Affairs Canada (GAC) due to the potential national security concerns. The process for achieving such a license is unclear and KSAT has expressed frustration at the lack of transparency and communication on the part of GAC. 


Outdated legislation 

Canada's legislation dealing with outer space harkens back to when the major players in orbit were other governments. Since then the rise of private companies in all facets of the aerospace industry have highlighted the limitations of Canada's existing framework.
This is one of the findings of a report done by the Institute of Air and Space Law at McGill University's Faculty of Law for GAC on the specific question of remote sensing. In addition, it found that the department in charge of processing licenses was "underfunded and under-staffed" and that the problem would be exacerbated as applications increased. 


In the meantime 

Even though the Norwegian ambassador has intervened, there is still little clarity as to the status of KSAT's application.
A statement from GAC emailed to the Canadian Press' Bob Weber last week stated: "We are aware that this is an important issue both to the company and to the local community, and we work to complete the review process as quickly as possible."
In the meantime, KSAT has had to shift projects elsewhere and is losing revenue. Planet Lab, the other company awaiting approval, has publicly mused about pulling out of Canada entirely. At the Canadian SmallSat Symposium they issued an ultimatum to the Canadian government: either deliver measurable progress on the licensing applications or they will dismantle their receivers and leave Canada.
As for the town of Inuvik, the satellite facility offers an important source of high quality employment and a focal point for investment and continued licensing delays will likely pose problems for planned expansions to the Inuvik Satellite Station Facility.