Newsletter:

The Arctic to be Saved Using Knowledge as Tool. Or?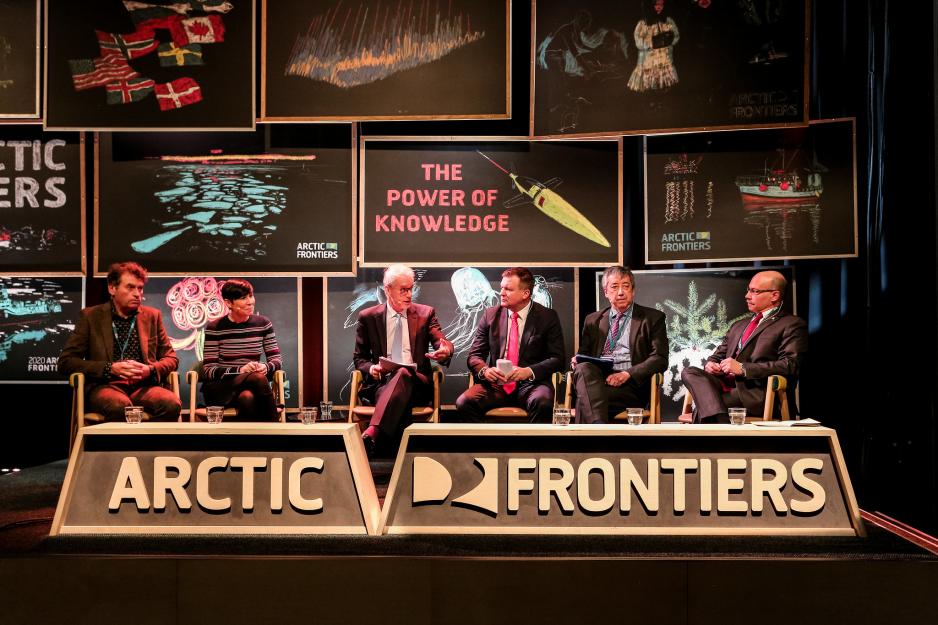 Dear reader! 
This week, Arctic Frontiers – Norway's largest High North conference – gathered participants from nearly 40 countries in Tromsø, Norway. That has left its mark on the columns of High North News too, of course.

And the Arctic dilemmas were lining up even when the conference opened last Monday.
The opening panel consisted of amongst others Australian Bobo Lo, who argues that it takes new mechanisms to manage climate changes. He even launched the idea of nothing short of a new Arctic treaty.

"There is no doubt that climate challenges need an international solution. Reducing climate gas emissions in Australia would for instance have significant importance for ice melting in the Arctic, however, no one in their right mind would seriously believe that it be possible to manage political developments in Australia through supranationalism", he writes in his op-ed "The Arctic and Its Good Helpers".

Selective concept of knowledge?
Knowledge comes, but wisdom stays, said the English poet Alfred Tennyson.

"The Power of Knowledge" was the slogan of the 14th Arctic Frontiers. But what kind of knowledge do we warrant for the future and sustainable development that we want here in the High North? And could it be that we already possess knowledge we do not use?

In her opening speech, Sami Parliament President Ailo Keskitalo reminded the audience that knowledge about the Arctic is not just something you can read or measure to acquire. That knowledge about Arctic conditions have been inherited through generations of northern indigenous people for centuries and constitute a precondition for how people of the north have been able to live and survive in one of the harshest climate areas on earth. She argues that a series of controversial development issues, such as the Nussir case, prove that Norway uses the concept of knowledge very selectively and in order to reach certain political goals: "Indigenous people's knowledge is set aside, minimized and at times ridiculed", she says in an interview with High North News.

Historic ruling in Sweden
In Sweden, Girjas Sami village has had every reason to celebrate this week. For more than a decade, a court case has been ongoing between Girjas Sami village and the Swedish state. The core of the dispute is the question about whether the Sami reindeer herding district or the Swedish state has the right to govern hunting and fishing rights in the area. The Swedish Supreme Court on Thursday 23 January ruled that the Girjas Sami village holds exclusive rights to decide who gets to hunt and fish within its management boundaries.

Following the ruling, there has been a question about what significance the decision of the Swedish Supreme Court may have in other parts of Sapmi. Øyvind Ravna, Professor of Law at the University of Tromsø refers to the ruling as groundbreaking and historic, and believes it may have impact on Norwegian court rulings too.

Groundbreaking research
Scientists have long struggled to find a complete explanation as to why temperatures in the Arctic increase twice as fast as in the rest of the world. The increasing temperatures have led to a dramatic reduction in sea ice levels for the past two decades. A recent study published in the journal Nature Climate Change last week concludes that ozone depleting substances (ODS) such as e.g. chlorofluorocarbons (CFC) may be responsible for up to half the temperature increase observed in the Arctic from 1955-2005.

Another study, this one from the International Council on Clean Transportation (ICCT) concludes that the use of liquefied natural gas (LNG) in international shipping, an allegedly cleaner alternative to traditional heavy-fuel oil and distilled fuels, may actually lead to more greenhouse gas emissions than previously assumed. "Given this, it is fair to question continued investments in LNG infrastructure on ships and on shore, as these could make it harder to transition to low- and zero-carbon fuels in the future", the scientists behind the report write.

A superhot 100-year old
On 9 February 2020, it will be 100 years since the Svalbard Treaty was signed. Negotiation manager Fritz Wedel Jarlsberg har probably not envisioned that he would be stirring noise amongst snow crab fishers in Latvia or a headache for Chinese scientists on Svalbard a lifetime – and more than that – later on. Yet that goes to illustrate that the 100-year old Treaty that grants Norway sovereignty over Svalbard is as important today as it was back then.

The Treaty's long and exciting history is the topic of this week's longread; A Voyage from "Terra Nullius" to "All Man's Land".

Friday, the longest-lasting slow-TV broadcast in history was kicked off on Norwegian broadcaster NRK. During the nine days leading up to the anniversary day, NRK brings its viewers along on a voyage round Svalbard – or "terra nullius" (no man's land) as it was referred to some 100 years ago. High North News has been granted permission to transmit the broadcast on our web pages.

A love story
Onboard the MS Spitsbergen is our very own Editor-in-Chief, Arne O. Holm, who has an intimate and loving relationship with Svalbard, which is also reflected in his quite personal Friday op-ed:

"It must have been way back in 1986, I think, that I entered a ship deck in Longyearbyen for the first time ever. A so-called 'skårunge', a rookie, while the rest of the passengers thought I was a sailor, visiting what was to unfold before me as an Arctic paradise. Since then, it never left me. It is a never-ending love story."

So all you have to do is sit down before the screen and enjoy the voyage around Norway's Arctic gem.

Have a great weekend!
Siri Gulliksen Tømmerbakke
News Editor 

Also read:
Vast mineral deposits near Svalbard
Responding to the silencing of Arctic cultures