New Nuuk Port Facility Open for Business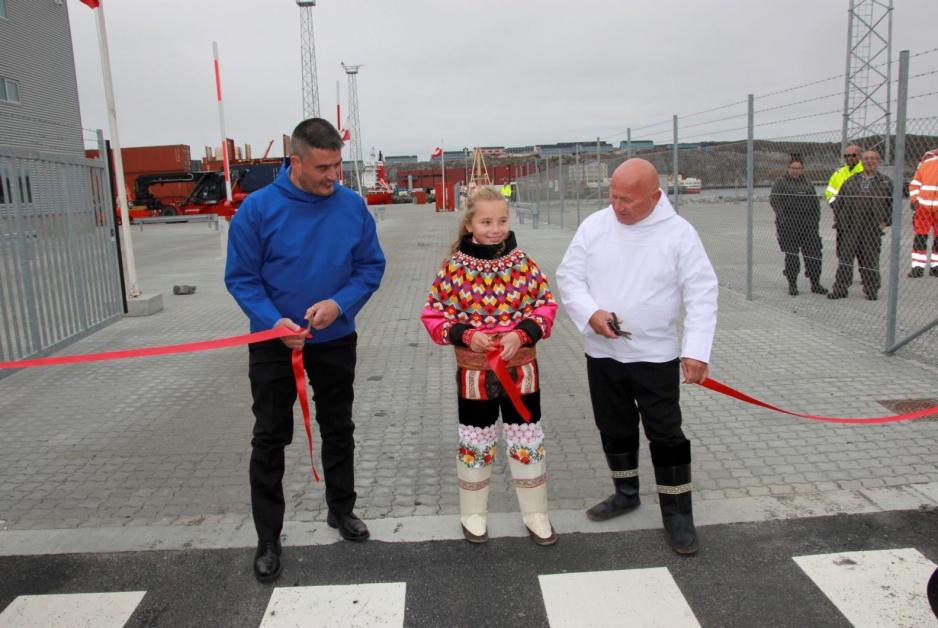 Newly opened Greenland port facility "a milestone" for the country as it works to improve its sea and air ties to the other countries.

Newly opened Greenland port facility a milestone for the country as it works to improve its sea and air ties to the other countries.
After almost a year's worth of delays, Nuuk's new port facility officially opened to traffic on Friday.
Originally slated to open last November, the opening date for the 47,000 square metre container terminal and accompanying 300m quay at Sikuki Harbour, was first postponed to April of this year before finally being handed over on August 15.
For the past month, Royal Arctic Line, the facility's main tenant, had been making the final preparations to begin shipping operations there.
Completion of the 400 million kroner ($63 million) facility was "the realisation of a years-long dream" of making it easier to ship goods to and from Greenland, according to Kim Kielsen, the premier.
"Once the new port is open, it will be able to receive larger ships than the current facility. The new port is an important milestone for our nation's development," Mr Kielsen said during Friday's opening ceremony.
Construction of Sikuki Harbour began in 2013 in order to provide Nuuk and Greenland with a replacement for the existing harbour terminal, which is 50% smaller than the new facility.
Sikuki Harbour was one of Greenland's largest building projects ever. It is part of a series of infrastructure investments that also includes a multi-billion kroner airport renovation and construction plan.
For Royal Arctic Line, moving into the new facility comes as it has embarked on a series of initiatives in recent years that are aimed at making it easier and cheaper to ship to and from the country.
One of those, announced in 2015, involves partnering with Eimskip, an Icelandic shipping line, on construction of new ships and on capacity-sharing.  
Another, more contentious, measure has been Royal Arctic Line's on-going efforts to move its home port away from Aalborg, Denmark, by 2019. Currently, Royal Arctic Line has a contract to operate out of Aalborg until 2022, but in recent years it has wound down its activities there as it builds up its operations in Nuuk.
Should Royal Arctic Lines withdraw from Aalborg entirely before the contract expires, port authorities there say they will demand compensation, in part to help repay for extensive improvements made to accommodate Royal Arctic Line after the most recent contact extension, in 2010.
In addition to benefitting Royal Arctic Line's operations, Sikuki, according to port officials in Nuuk, will be a boon to the economy at the national level since it will be easier to ship products in and out of the country.
While the new port facility will be used as a container and freight terminal, the existing harbour will remain in service as a landing area for cruise ships and fishing vessels. The port also hopes to attract other marine and industrial tenants to the areas once occupied by Royal Arctic Line.