More than 2.5 Million CAD Given out in Arctic Inspiration Prize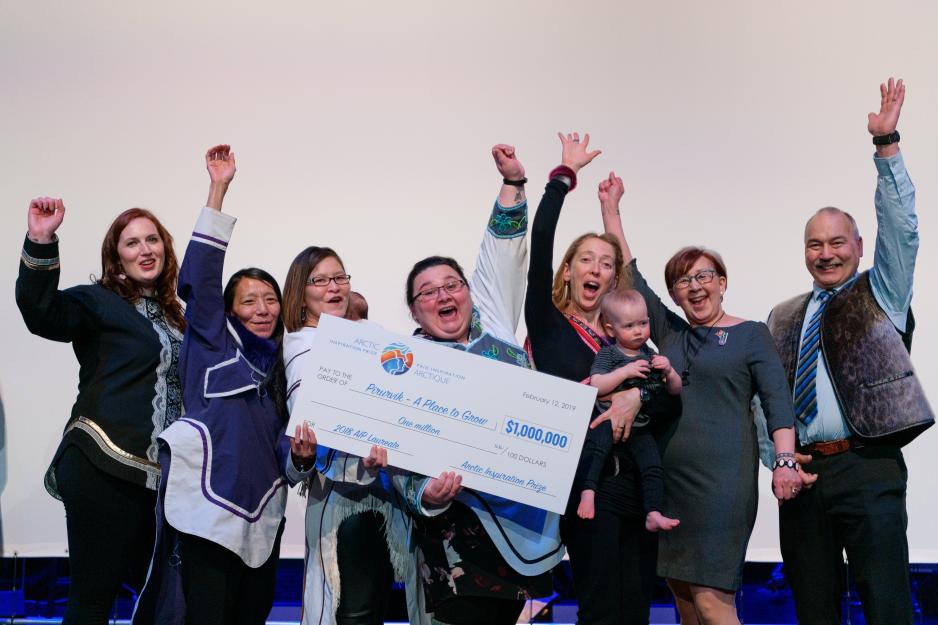 Over 2.5 million CAD was given out last week in Whitehorse, Canada, as the Arctic Inspiration Prize was given to five different organizations.
The Arctic Inspiration Prize (AIP) was first held in Vancouver in 2012 and started as an annual prize that would give out 1,00,000 CAD (or more) to worthy northern projects that were trying to make improve the North.

The founders of the prize, Sima Sharifi and Arnold Witzig, Co-Founders explained that:
"The purpose of the Prize is to recognize excellence and encourage teamwork among diverse groups in order to use or expand Arctic knowledge and bring it into action for the decisive benefit of the Canadian Arctic, its inhabitants and therefore for Canada as a whole."
The 2017 Arctic Inspiration Prize, was when the winnings increased to 3,000,000 CAD and it was in January 2018, at the 2017 Award Ceremony, that the structure of the prize changed when founders gifted 60 million CAD, their entire wealth, to the northern-led AIP Charitable Trust.
The AIP is therefore now owned and governed by the northern-led AIP Charitable Trust and supported by Indigenous organizations, governments, industry, philanthropy, with management support provided by the Rideau Hall Foundation.
Nunavut preschool wins 1 million CAD
On February 12th 2019, the Arctic Inspiration Prize was presented in the North for the first time. The event was held in Whitehorse at the Yukon Arts Center. The prize has several categories, including the big 1,000,000 CAD prize and a youth category.  
This year "Pirurvik - A Place to Grow: Early Childhood Education for Nunavummiut" won the 1,000,000 CAD prize.
This preschool, which is based in Pond Inlet, is designed to help provide childhood education that is rooted in a specific Inuit knowledge (known as Inuit Qaujimajatuqangi) principle called Pilimmaksarniq. Pilimmaksarniq is the belief that children should learn at their own rate, allowing them to follow their own curiosities.
According to the biography of the project,"The goal is to augment current programming for infants and toddlers aged three months to five years in seven communities that span across all three regions of Nunavut. The model could eventually be replicated throughout the territory."
Other winners included: Nunami Sukuijainiq: A Youth Arctic Ecology Land Camp Program, Tr'ondëk Hwëch'in Teaching and Working Farm Extended-Season Greenhouse Construction,and Traditional Techniques Tweaked to Galvanize Indigenous Northern Artisans.
According to an official press release, Nunami Sukuijainiq was presented 466,000 CAD. 

This land-based education program is held for Nunavik (northern Quebec) youth. This project youth from all Inuit communities in Nunavik have the opportunity to participate in Arctic ecology land camps which focus on marine and freshwater edible resources, hydrology, entomology, contaminants, permafrost and the ecology of lakes and plants in rapidly changing northern environments.
The Tr'ondëk Hwëch'in Teaching and Working Farm Extended-Season Greenhouse Construction won 500,000 CAD from the prize, but during the event were immediately present another 500,000 from the Government of Canada, bringing their total prize to 1,000,000 CAD.

The project is designed to build an extended- season cold-climate greenhouse, which would be the first of its kind in Yukon. This will transform the existing farm into an operation capable of sustaining local production for up to 10 months of the year.
Traditional Techniques Tweaked to Galvanize Indigenous Northern Artisans was the final winner; they took home 500,000 CAD. This project is looking to create an association of northern Indigenous artists and crafters to develop sustainable business ventures, improving local artisans' skills, ensuring authentic, high quality products, and building confidence as sustainable business owners.
There is also a youth category that can give up to 100,000 CAD.  

This year's youth winner, From Scrap to Art, won the entire 100,000 CAD and will work to help youth in Cambridge Bay work with mentors, both Inuit and Moari to set up a welding studio that will allow them to transform mental in the community to art.