In Memory of Solidarity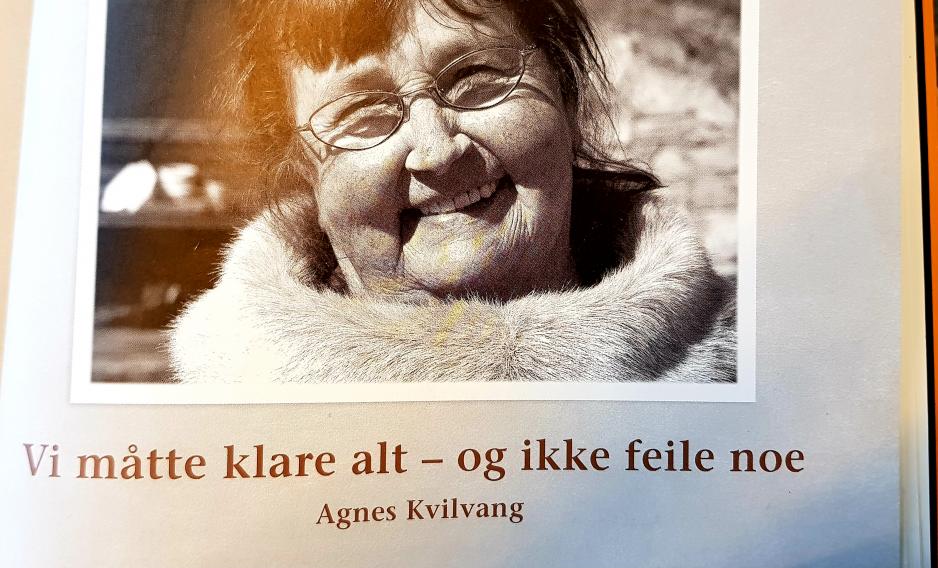 Agnes Kvilvang died the other day. She died while the world's leaders compete to pull the plug for international unity. The idea of solidarity is going down the drain and disappearing at an alarming speed.
Now Agnes Kvilvang is gone, too. Few of our readers will know who she was, and this is not her obituary. This is a tribute to her ideas. About what this little, great woman stood for. Friends of Svalbard will know her.
Need reminders
We may need reminders like this when even democratic elections give rise to Sun Kings.
Agnes Kvilvang, leader of the Longyearbyen Workers Union, Division 142 of the Norwegian Labor Union, at 78 degrees North, main employee representative in the Store Norske coalmining company. She spent her life helping others, but died in the noise of presidents who are only looking to help themselves.
Mourning her is therefore due to something more than just a warm-hearted person being gone. It is the mourning over the fact that everything she stood for has been placed on a battlefield where egotism, cynicism and misanthropy threatens to get the upper hand.
When the republican president Ronald Reagan left his office, the used his final speech to remind everyone that the USA was a country in which everyone were welcome. A country where everyone could feel at home. A few years earlier, he had stood at Brandenburger Tor encouraging Michael Gorbatchev to tear down the wall that split Europe into two parts.
Us and them
Today, the White House is inhabited by a president elected to a higher office using lies and conceptions, one whose only goal is to shut borders and put people up against each other.
Agnes Kvilvang died while despots force their inhabitants to leave their homes and possessions.
These days, I am in particularly moved by images from Venezuela. The oil-rich country last year saw an inflation of unbelievable 1.3 million per cent. Salaries, for those who receive such, is worthless before the recipients can make their way to the bank or the shop.
Agnes Kvilvang died while international agreements on peace and disarmament are falling apart like dry Danish pastry crumbs.
Along our own border in the north, armament has resumed as if we were back to the Cold War. Weapons replace dialogue.
In this picture, Longyearbyen – where Agnes Kvilvang worked for many years – is like an international lighthouse. A treaty written as far back as in 1920 gave Norway sovereignty over the archipelago. Even today, the Treaty regulates international cooperation on the islands. Even when modern times catch up with nearly 100-year old phrases, the Treaty is nevertheless sustainable. Next year, we celebrate its anniversary and the Treaty has every precondition it needs to live on.
Generosity and solidarity
Being a union leader in a town that at the time of Agnes Kvilvang was more or less owned and run by a state-owned coalmining company, far away from the central government offices, demanded and still demands wholesome people. Living at 78 degrees North requires exactly the kind of generosity and solidarity between people that sometimes threatens both American and European democracies.
The Foreign Minister
In one of her many speeches during the High North conference Arctic Frontiers in Tromsø, Norway las week, [Norwegian] Foreign Minister Ine Eriksen Søreide emphasized how challenging it is to navigate this landscape. International agreements ripe for revision are left without revision out of fear that they will fall completely apart if touched at all. Participation in international cooperation is increasingly measured against Norway's personal benefits and thus to a lesser extent in a multilateral perspective.
It may represent a necessary adjustment of Norwegian foreign policy.
For those of us living in the High North, it is nevertheless crucial that international relations are maintained and that we have a running dialogue with our great eastern neighbor.
We simply depend on the work Agnes Kvilvang did for workers in Longyearbyen, for the key ideas of Norwegian High North Policy, to survive and to continue playing a key part of the future Arctic.
This op-ed originally appeared in English and has been translated by HNN's Elisabeth Bergquist.