Lofoten's big headache – we need to take control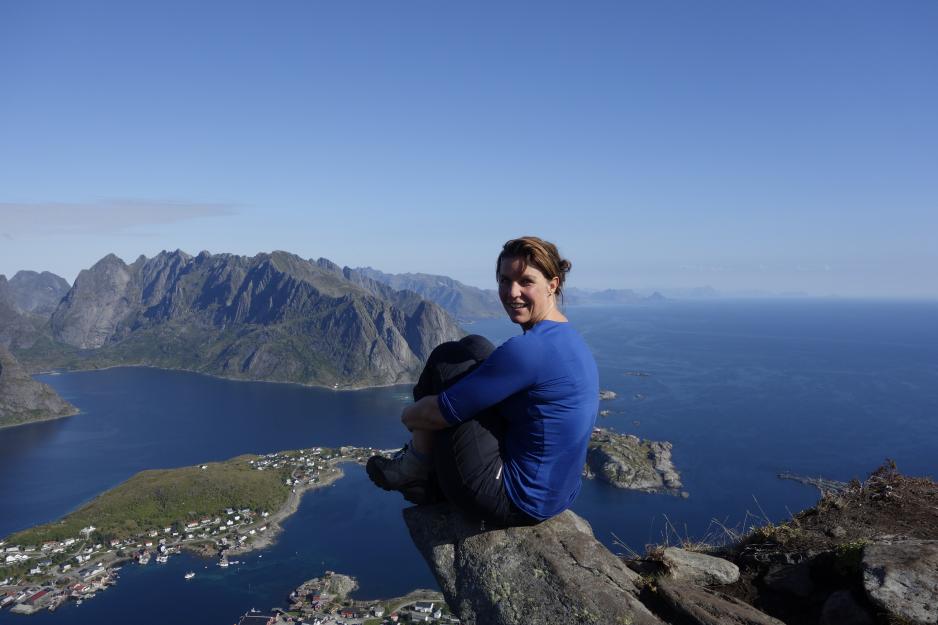 Increasing numbers of tourists are usually a tourist destination's dream. However, for beautiful and fragile Lofoten, with a population of just 25,000, the burden is becoming too much. Chair of Lofoten's Outdoor Recreation Council Karianne Steen argues that it is high time that the higher levels of government take notice.

Increasing numbers of tourists are usually a tourist destination's dream. However, for beautiful and fragile Lofoten, with a population of just 25,000, the burden is becoming too much. Chair of Lofoten's Outdoor Recreation Council Karianne Steen argues that it is high time that the higher levels of government take notice.
Click here for Norwegian version.

Chock-a-block roads, oceans, hotels and camping grounds. Overwhelming numbers of free campers, a shortage of toilet facilities and parking, packed ferries and inadequate infrastructure.
There has been an enormous influx of tourists to Lofoten this summer, with local media quick to draw attention to the situation.
Other Norwegian and international media outlets have also highlighted the problems that stem from increasing demand.
- We need time to prepare; to set the table.
- The number of tourists that visited Lofoten this summer corresponds to a 300 percent increase in the total population, says Karianne Steen, chair of Lofoten's Outdoor Recreation Council, via telephone from council offices in Svolvær.
- It is not that we do not want to wish tourists welcome to Lofoten. Of course we do. But this is our home, and when one is expecting guests one usually wants time to set the table before they arrive.
- If we can do that, so that the locals avoid negative feedback from visitors, then receiving guests will be a much more pleasant experience.
Visitor statistics confirm Steen's claims, but the statistics are not comprehensive. Visitors arriving by bicycle, camper or motorcycle and those who arrange their own accommodation are not included. So-called "free campers", and those who rent via Airbnb, are by no means the minority. This means that no one has a full account of just how many tourists visit Lofoten.

Huge growth over last 10-15 years
Nevertheless, the numbers tell the tale. A look at the statistics for visitor stays at commercial accommodation in the period 2000 to 2014 shows that Norway has experienced growth of 27 percent. In the same period, Lofoten experienced growth of 50 percent, almost double the national figure.
We also know that growing demand means that increasing numbers are making use of Lofoten's biggest selling point – its spectacular nature. This is not without its inherent problems, whether in relation to environmental degradation or the lack of infrastructure.
- It is a conglomerate of challenges, says Karianne Steen, who urges better cooperation, at both the regional and national levels, in order to meet the challenges head-on.
The deadline for a solution has passed. We need to do something now, argues Steen, supported by, among others, Ingelin Noresjø, Nordland county councilor for environment and culture.
- We need to put our heads together and we need to work more closely with tourism, and that connection between tourism and outdoor recreation, says Steen.
Just weeks ago, Lofoten's working group for nature-based experiences met with Nordland County Council at Leknes. According to participants, there was consensus on the need for better cooperation.
Lofoten's Outdoor Recreation Council was present, as well as Destination Lofoten, Lofoten Hiking Association, the Norwegian Agricultural Council and representatives from Vågan, Flakstad, Vestvågøy and Moskenes councils.
- Lofoten's councils are enthusiastic, and they want to see something done. We understand, and we want to get started. Not just in the form of single project, but implementation of concrete measures, stated Mona Fagrås, county councilor for industry, in an interview with Lofoten-Tidene following the meeting.
Karianne Steen describes the meeting as positive, and says she is pleased that the county council wants to contribute to the work.

Must act as a region
- It is about concrete, visible measures, and not just about making a ten-year plan, so we hope that these statements are backed by money, she says.
Financing, she says, can be put towards anything from improving infrastructure around recreation and tourism, such as waste management, to mapping and restoration of eroded hiking trails.
- Some areas need extra help, she adds.
Steen argues that solving problems at the municipal level is not sufficient.
- Lofoten is a special region. Whether you are in Ramberg or Reine has little significance. Lofoten is a region and we must treat it as such, she argues.
- We receive the same signals from entities like the Norwegian Public Roads Administration, Norwegian Environmental Agency, Innovation Norway and others. We must express our needs and interests in one voice, like when we sent a common contribution to the government white paper on tourism. We have also compiled "Lofotvettreglene" [guidelines], and we are underway with work on a regional regulatory framework for outdoor recreation in Lofoten, she says.
On the national level, the Norwegian Environmental Agency is already involved. They have released 1.4 million kroner for the project "Reinbringen", construction of a Sherpa trail, equivalent to trails in Bodø and Tromsø.
- This is a pilot project in the Lofoten context, which we expect will open the way for other projects, says Steen, indicating that the Norwegian Environmental Agency is open to the prospect of new projects.

Developing an app
- We are in discussions, and they would like to contribute in an advisory capacity, says Steen.
The county governor has indicated willingness to contribute to mapping initiatives, including development of an app that enables locals and tourists to register problem areas.
- We would get a lot out of a common arena for dialogue, says Steen, adding that the Rusken initiative in Oslo has provided inspiration.
- We need to take responsibility both locally and regionally, and maintain control, she says, talking about the challenges facing Lofoten.
- It is also about tradition and how we work in Lofoten. It is important that the work has legitimacy in our local councils, and we need to build understanding about the importance of legitimacy. Issues must also be raised to the regional level, parallel to the work being carried out in local councils.  There is some skepticism to planning and long-term approaches, but if we want to be heard, or get anywhere, we will need to work together, she says.
Steen says she has experienced a great degree of enthusiasm among local partners. For example, some local hotels have already expressed a willingness to participate in work with signage.
- Industrial organisations in Moskenes and Vågan have demonstrated interest in participating, and being catalysts in this work. These are the kinds of resources that we need to look after, says Steen.

Local expertise, regional arena
- What needs to be done to achieve these goals?
- It is an open question, but I believe the answer is that we need a regional arena. I think it is natural that we find a common arena between the interests of those who work with outdoor recreation and those who work with tourism. For that, however, we need additional resources, says Steen.
- We have loads of expertise available, both within destination companies, the outdoor recreation council, working groups and players like "Lofoten matpark". Maybe we will see a form of cooperation and a common arena there, with the municipal council as the foundation in a triangle model. We also need the county council and other administrative entities on our side. It is not enough to rely upon volunteers, even though their contributions mean so much. We must stand together and grasp this opportunity.
- This can really be a great thing, if we obtain the necessary resources and develop a common arena between tourism and outdoor recreation, she argues.
Within the next month, Lofoten representatives will enter into preliminary talks with Nordland County Council.

- We are really looking forward to the meeting, to see what can be done, says Steen.