It Took A Swedish Princess to Place Norway on the Arctic Map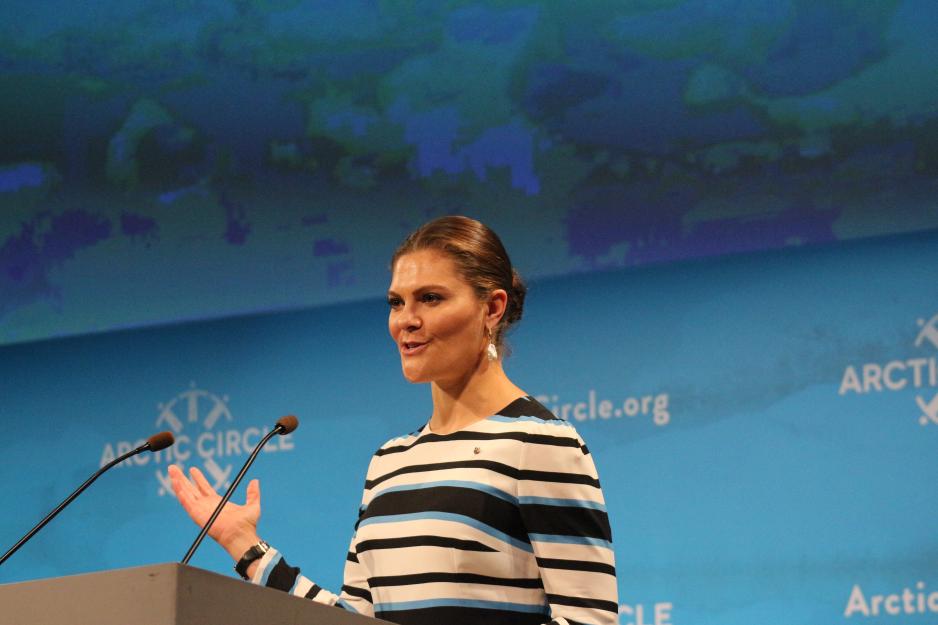 Reykjavik: Are there limits to how much care one person can receive? Yes, I think to myself as I stroll out of Harpa, the ever-impressive concert hall in Reykjavik. The ocean winds sweeping across the Icelandic capital with stormy gusts are both demanding and liberating. I brace myself and feel all the clammy embraces blow over and away.
I am, as you may have guessed already, once again a participant at the Arctic Circle, the largest of all Arctic conferences that take place between South Korea and Kirkenes during a year.
A lot has happened in this long-lasting journey.
Climate issues have taken over as the most important cause, while peaceful coexistence has been swapped for aggressive security politics and rhetoric.
The Arcic saviours
But those of us who hang out at meetings and debates in the High North adjust to new challenges faster than Clark Kent changes from his office suit into Superman.
After day one of the Arctic Circle, our saviours line up. They are here to help us out of the climate trouble we are in. Their hugs and care embrace me like a hot tsunami from the Sahara.
- Should not the Arctic be turned into a global national park, someone ask in the overcrowded assembly hall at Harpa, and for the first time, spontaneous applause breaks out from some of the approximately 2,000 participants.
These are the same people who clap as quietly as if they were inside a church when Greenland's premier Kim Kielsen stands on the podium declaring that Greenland is open for business with the rest of the world. The modest applause is due to the surprise that a Greenlandic Inuit, a former sailor even, wants economic development and social welfare on Greenland, when expectations in parts of his audience are for him to want and to be protected from any economic interference.
Greenland + USA = True
I do not know if many really noticed, but the American Minister of Energy, Rick Perry, revealed in his speech that he had had a private meeting with Kim Kielsen the day before. – We discussed business, Perry said, a man owned by a president who both denies that climate changes are man-made and who recently wanted to buy Greenland to exploit the vast natural resources on the gigantic island in the North Atlantic.
There are, nevertheless, unanimous moans when a representative from Bloomberg, those guys who deal with money and finance, asks Greenland's premier whether he has calculated how much Greenland is really worth. The underlying tone is one of blame for how much he rejects when he refuses to accept Donald Trump's offer to buy Greenland. I try for a while to hold on to the notion that the Bloomberg suit was an ironic provocateur, however, I face disagreement from those who flinch under the yoke of yet another revelation of lacking knowledge of the Arctic.
- Well, that is a good idea, said Iceland's Prime Minister Katrin Jakobsdottir when asked to make us who live in the Arctic into inhabitants of a national part. That is, a prime minister of an Arctic state who is completely void of core reflexes when it comes to the issue of national sovereignty.
- No, was the clear answer from Finland's Prime Minister Antti Rinne.
- People live in the Arctic, he added. – We must manage our resources in the best interest of the people who live here.
Our own good
Jakobsdottir is the tenth prime minister in Iceland in as many years, representing "The Green Left Movement", and she seems to find the idea of moving me and everyone else living in the Arctic into a global national park, an interesting thought.
Because we do not know our own good, though we are smart enough not to believe that the glaciers on Greenland are melting because the indigenous population has gotten broadband and therefore no longer have to paddle their kayaks out to the villages. The glaciers there, as elsewhere in the Arctic, melt rather because those who are overcome with care for us who live here light the planet on fire in other places than the Arctic itself.
But it is us, and our social and economic welfare, that they want to limit with their desire for protection. They are not out to limit their own endless need to build roads and put asphalt between office buildings further south in Europe.
Denmark's social democratic foreign minister, Jeppe Kofod, also tries to introduce some geographic corrections, though I do not think he was making any impression on those who consider the Arctic a homogenous group of  people and welfare to be protected.
When Russian governor Dmitry Artyukhov enters the stage to show pictures and tell of the overwhelming gas production in the Yamal, I suspect it was all too much for those who see the Arctic as a future museum. Artyukhov also chose climate to open his story when describing a city that in just a few years has grown from 19 to 30,000 inhabitants.
Non-Arctic states constitute a large part of the keynote speakers at the Arctic Circle, however, this year, the Arctic states too left their mark at the opening event. Denmark (with Greenland and the Faroe Islands), Finland, Greenland, Iceland, the USA and Russia all had high-level representation present.
This is Norway's response
But how does Norway respond to these challenges, you may ask? What did Norway answer when asked how the climate change in the Arctic can be tamed?
Nothing, is the answer. The country that claims the High North is its most important strategic asset is completely absent on the political level.
Norway stays at home, brooding that the Icelanders, who barely have a stripe of land above the Arctic Circle, takes control over important Arctic questions.
Nevertheless, Norway was briefly mentioned in the opening speeches. It took a Swede to pull Norway into the Arctic.
Her Royal Highness Crown Princess Victoria of Sweden mentioned her forefathers as well as their expeditions to Svalbard in her elegantly delivered opening speech. In that way, both Oscar II Land and the Nordenskiöld Land on Spitsbergen became part of the Arctic storytelling.
 A Swedish princess made that happen.