Indigenous and Regional Cooperation Emphasized at Russia's First Senior Arctic Officials' Meeting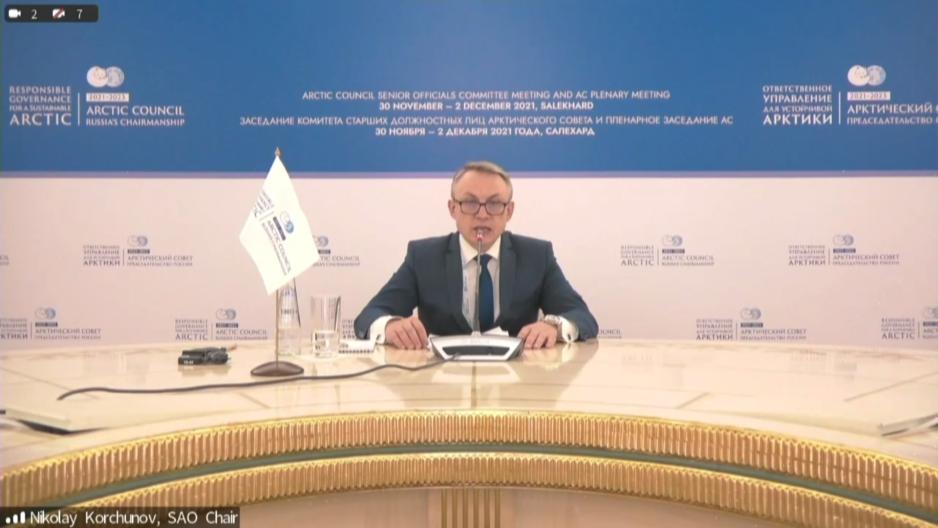 Mikhail Pogodaev was appointed as the Russian Chairmanship's Special Envoy for Indigenous and Regional Cooperation.
"Today's meeting was an opportunity for the participants in the Arctic Council to discuss and advance the program of the Russian Chairmanship, and begin the implementation phase of the Arctic Council first strategic plan, adopted in May the Reykjavik Ministerial Meeting ", said Ambassador Nikolay Korchunov, Chair of the SAO group. 
Indigenous and regional cooperation
Enhancing cooperation between Arctic regions and people, especially Indigenous Peoples, is one of the actions outlined in the Council's Strategic Plan and a priority of the Russian Chairmanship. The Chairmanship, therefore, engaged delegates in a dialogue on regional and people-to-people cooperation and invited among other speakers its appointed Special Envoy for Indigenous and Regional Cooperation, Mikhail Pogodaev, to give an overview of his mandate and future work in support of the Chairmanship. Upcoming initiatives include an extended events program, as well as a series of special reports that will highlight both challenges and best practice examples from Arctic regions, noted in a press release by the Arctic Council. 
Four priority areas
The Russian Chairmanship program outlines four priority areas for its two-year term: Arctic inhabitants and Indigenous Peoples, environmental protection and climate change, socio-economic development, and strengthening the Arctic Council.
The meeting gave Arctic Council delegates the opportunity to discuss and advance on topics common to both the Chairmanship program of the Russian Federation and the Arctic Council's 10-year Strategic Plan. Topics included Indigenous and regional cooperation; a review of ongoing Arctic Council projects, sustainable socio-economic development; and youth cooperation.
Responsible Governance 
The overall theme for the Russian chairmanship period is "Responsible Governance for a Sustainable Arctic" – a key principle for promoting environmental, social, and economic sustainable development of the region, increasing synergies with other regional platforms, and initiating the implementation of the Council's 10-year strategy plan.
An important part of the SAO gathering is a special joint meeting about the cooperation between the Arctic Council and the Arctic Economic Council. The two councils formalized their cooperation through signing a bilateral Memorandum of Understanding in May 2019, and the meeting in Salekhard will be the second time representatives from the two councils meet. The purpose of their meeting will be to assess progress and the opportunities for cooperation, in particular between the two councils' respective working groups.