Two Women – 9 months – 78 degrees north

Hilde Will Be the First Woman To Winter On Svalbard Without Men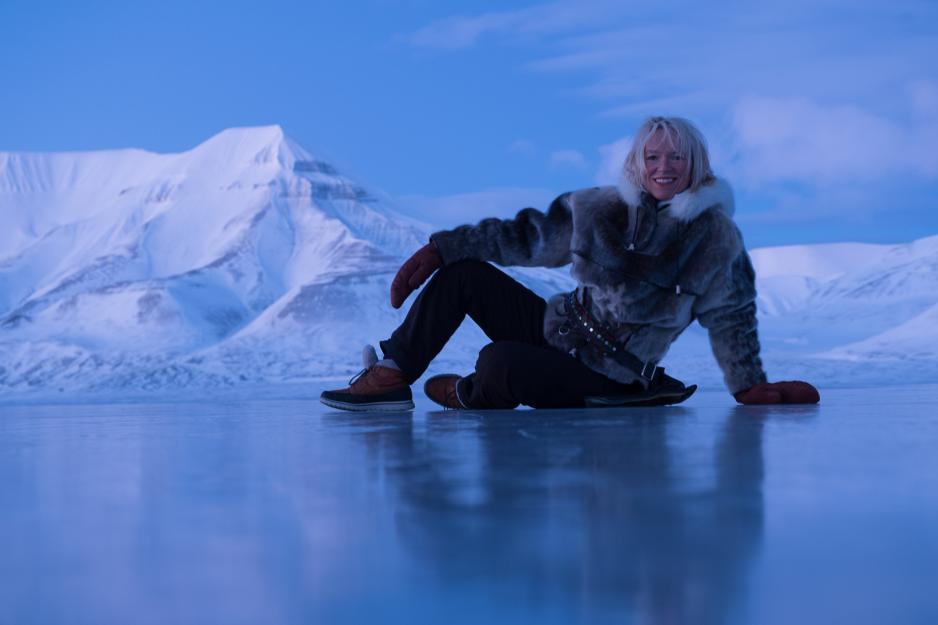 Wintering at Svalbard had been a lifelong dream of Hilde Fålun Strøm (51). However, it was only when nature required its first 'climate deaths' that her trip found its goal and a meaning larger than herself.
Hilde Fålulm Strøm comes from Fjellhamar near Oslo. However, the coming winter she will – as the first woman ever – winter at Svalbard in a 20 square meters' trapper cabin from 1930 located 140 kilometers south of Longyearbyen.
The cabin is in a very remote and rather inaccessible area, summer and winter alike.
In love
The adventurer, who is in her 50's, came to Svalbard for the first time back in 1995.
- I was totally mesmerized by the light and the nature, and I fell head over heels in love, she says.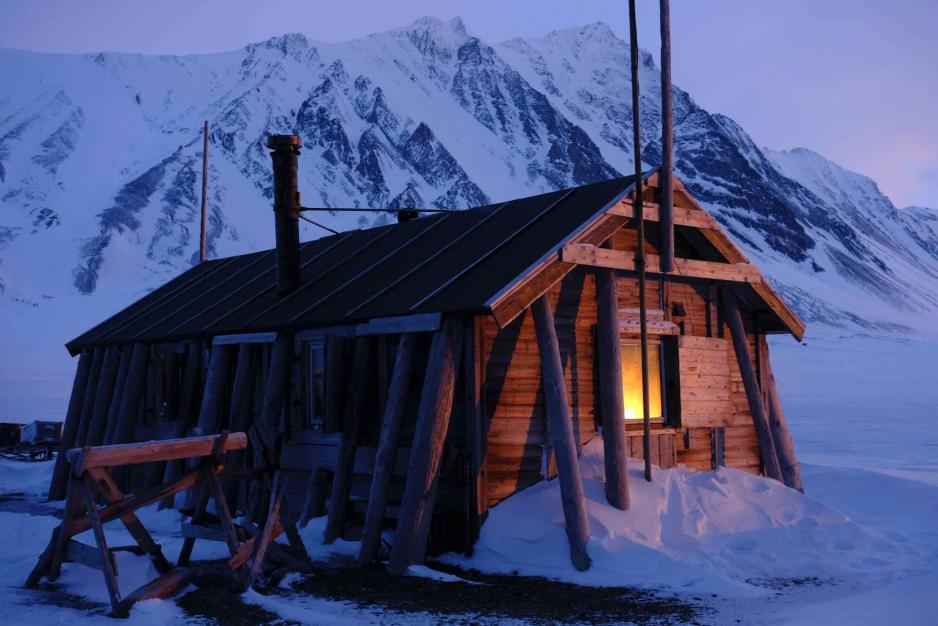 Since then, she has worked in tourism and is at present product manager at Hurtigruten. She has spent several months at Bjørnøya and Jan Mayen, and also two months in winter at Austfjordneset, north of Longyearbyen.
It was, nevertheless, to take 24 years before her dream about wintering were to become true.
- Originally, my game plan was to go with my husband. Only after several years did I realize that it was not really his dream. So I thought "Why not go there alone? Find out who Hilde really is when the going gets tough?"
She has broad field experience and more than 200 polar bear encounters, so she had no doubt that she would manage.
The turning point
On 19 December 2015 something happens that turns everything upside down:
Kvinner i Arktis / Arctic Women
Hvilke kvinner i Nordområdene/Arktis bør High North News løfte opp og framheve? Kommentér enten her eller send oss en epost.
Do you know women in the Artic we should highlight in High North News? Let us know, either by commenting on this article or via email.
- An avalanche that brought down 12 houses passed ours with the least margin possible. I was closely involved with the rescue operation and one of the families that was hit the hardest. When the two year-old girl and the 43 year-old man died, that did something to our lives, to society. I believe these were the first climate deaths in Svalbard, she says.
Suddenly 'finding herself' was not the goal of her wintering. The avalance gave her wintering a goal and a meaning far larger than Hilde herself.
When the two year-old girl and the 43 year-old man died, that did something to our lives, to society. I believe these were the first climate deaths in Svalbard
- I am neither a climate crusader nor a scientist. However, this winter I will be both. I have acknowledged that we all have to contribute in order to fight climate challenges. We can not longer sit sitll and wait for "everyone else" to do something. We all have to make changes to how we live our lives. We must be more conscious consumers and consider our food, food waste, packaging, clothes, power, travels and so on. The goal of my trip is to inspire change, she says.
In the year following the avalanche and turning point, she met Norwegian-Canadian Sunniva Sørby. Sørby was the first woman to ski to the South Pole and she has also crossed Greenland, ran marathons and climbed high mountains.
Sørby immediately liked the idea of wintering with Strøm at Bamsebu in the Van Keulen fjord in southern Spitsbergen.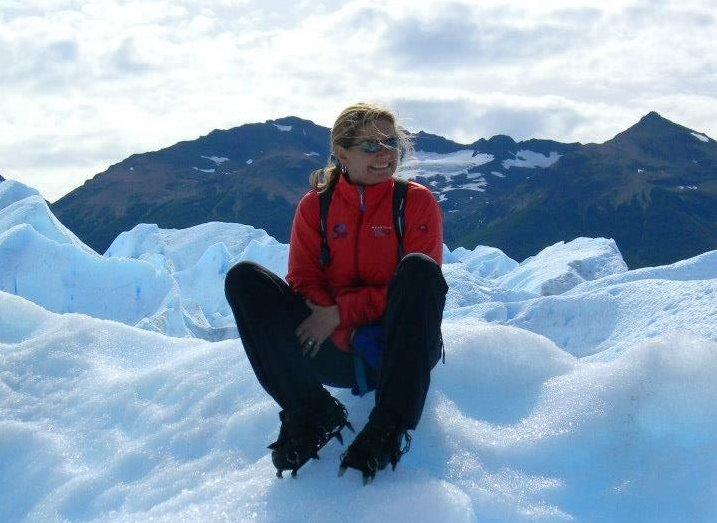 The project
For the past 18 months, the two have worked on planning the "Hearts in the ice" https://heartsintheice.com/ project, which originates from Strøm's company "With the heart in ice".
The project will be their contribution in the fight for nature and climate challenges the world is facing. Together with a series of cooperation partners and sponsors, an important part of their wintering stay will be sharing experiences and knowledge they acquire through living completely isolated and in line with nature.
They are to do measuring for scientists, try out new and environmentally friendly technology, report on weather and ice conditions as well as supply information to NASA.
- In addition we are to contribute significantly to ongoing climate projects through conducting measuring for scientists and report about weather and ice conditions, she says, and mentions:
Data about cloud systems to NASA

Mapping microplastic and environmental toxins in the sea to the Norwegian Institute of Marine Research

Examine plankton presence, which produces 70 percent of the oxygen we breathe

.
- We are also to contribute to a project about the Gulf Stream, she adds.
They already have a series of cooperation partners and sponsors on board. And and important part of their assignment will be communication and dissemination of knowledge. All their findings will be communicated to others through their own web page, in blogs and social media.
- There are also some schools that are to follow our project during the entire duration of our stay, she says.
New technology
The two plan to be self-reliant on electricity, and in order for that to happen, the two women bring two windmills with them in their luggage. These mills will, together with a solar cell panel, supply them with the electricity that they need.
- We want to try living sustainably with green power from our own power station, we will chop wood, find water and cook.
Whether the electricity available will be sufficient for also charging their electric snowmobil for frequent use, remains to be seen.
- We will probably rely most on dogs and on our skiing, she says with a laugh.
We want to try living sustainably with green power from our own power station
When asked what she considers the biggest challenge for Svalbard society, she mentions access to power.
- It is important that we establish a local power solutions that we can live with, both now and in the future. However, on an overall level I would argue that we all should contribute where we can and not wait for "everyone else" to solve this. It is also important that we dare elect political leaders who dare make unpopular decisions that benefit society.
She does not know whether initiatives such as going on a strike for the climate, like Swedish Greta Thunberg has received wide attention for, have any effect.
- However, all attention about this issue is  great, and it is particularly powerful when children stand out and demonstrate such a level of engagement. Our children will hate us if we fail to do anything about the current situation, she says.
Nevertheless, she urges everyone to be better at telling successful stories rather than just spreading the doomsday prophesies.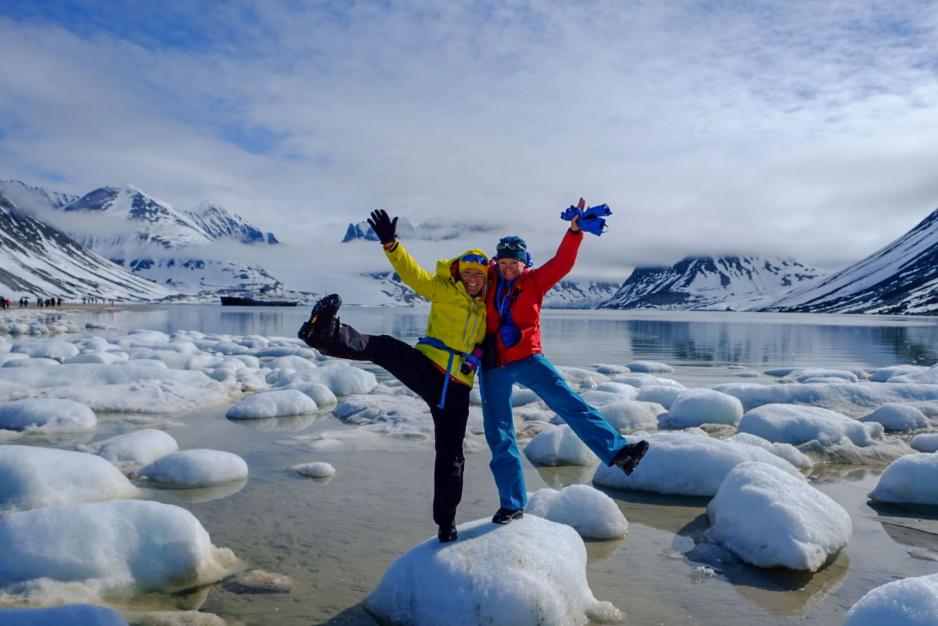 Hilde Fålun Strøm and Sunniva Sørby will be away for nine months, from August 2019 to May 2020. And even though they are mostly happy about it, they are also a bit excited.
- Even though I feel fully capable of such a wintering trip, you are, of course, worried about things that may happen. And humble with regards to the forces of nature. And then comes seeing whether and how Sunniva and I will work together, Strøm says.
First women
They will be the first women to winter on Svalbard like this, without men in their company. Reactions have mostly been positive:
- The family and those who know me have demonstrated full support and expressed no doubt that I am capable of carrying it out, she says.
Though admits to having sensed some of what may stem from prejudice from new sponsors and cooperation partners.
- It has been hard to find financial contributors and I have wondered if that is so because we are both women, consciously or not, without my knowing that for sure, she says, and closes:
- Maybe we have not been tough enough when contacting them. Anyhow, we have many great contributors when it comes to equipment and services, so the project will take place regardlessly!
You can follow their day-to-day journey here.
Translated to English by: Elisabeth Bergquist
It has been hard to find financial contributors and I have wondered if that is so because we are both women