Newsletter:

The Good Meetings between People of the Arctic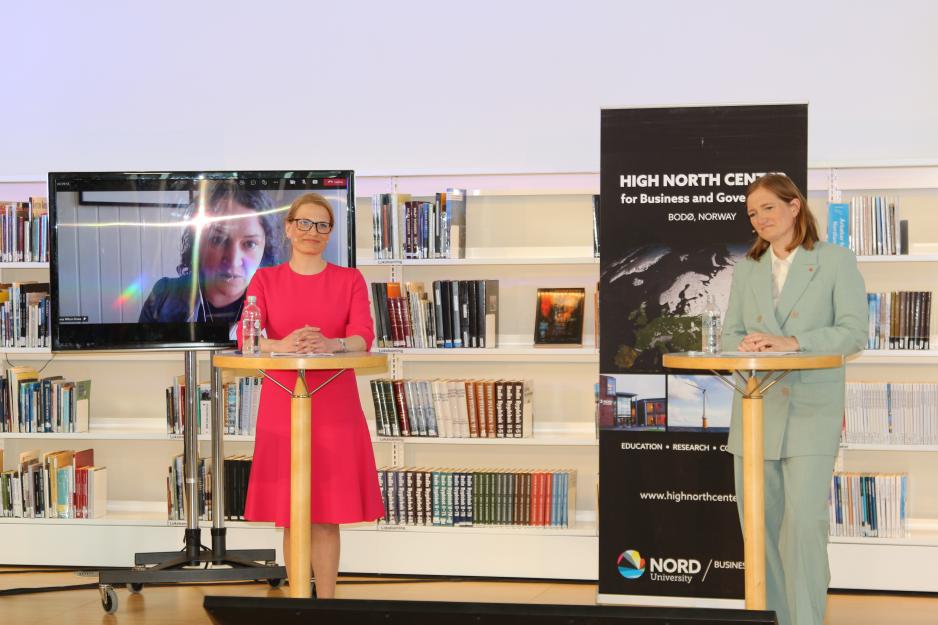 Dear HNN reader; yet another digital conference in the Arctic is over. However, a few of us nevertheless went to Bodø to be part of the dialogue between politicians and youth, scientists and state leaders, and perhaps the most important of all: The good meetings between us who live here. Meeting does something to us.
This week, the first digital edition of the High North Dialogue (HND) conference took place, with transmission from Stormen Library in Bodø. The agenda included regular items such as awards, state leader talks and the increasingly traditional Ambassadors' Panel, where Editor-in-Chief Arne O. Holm juggled a total of nine Arctic ambassadors from their respective home offices via Teams.

"Yet another digital conference", we of the editorial staff sighed. "Is it really worth going there when it might be better to just watch it from the comfort of our own home office?"
Vibrating life
It was totally worth going. Because even though most participants attended in the form of faces on a screen with various sound quality, those who had actually shown up in Bodø were the reward.

Smalltalk over a coffee whilst observing the correct distance, elbow greetings with broad smiles hidden behind face masks, and that awkward little moment when old friends meet and are about to hug, then remember – just seconds before – that it is actually prohibited.

For a newspaper, working from a home office is disastrous. Being out there, in the vibrating, breathing, pulsating life where news appear, are shared and dug up – that is what we live for.
The young are not impressed
That is why it was rewarding to be present when Norwegian Prime Minister Erna Solberg, who opened the conference digitally, entered into dialogue with youth present who questioned the government's priorities for the young in the High North.

The young are not much impressed with talk about jobs and railway, to put it mildly.

Nor is our Editor-in-Chief. He refers to the proposed North Norwegian Railway as a sidetrack in the debate about the demographic development in the High North.
Award show
We also attended the award show for the High North Young Entrepreneur award, even though the winner was digitally present from Alaska.
 
Another award winner was physically present in Bodø. High North Hero award recipient Felix Tschudi announced during his award acceptance speech that he would donate the award money of NOK 50,000 (appr. USD 6,000).

It is quite rare for representatives from all eight Arctic states plus the EU to meet to debate the future of the Arctic and the High North. Yet the HND's Ambassadors' Panel has become a tradition. The debate will become available digitally, and until then, you can read about their meeting here.

Preliminary results from the Business Index North report were also presented at HND, demonstrating a gap between economic growth and population figures in the Arctic.
Building the north
Surprisingly, perhaps, the week has consisted of more than conferences too. We have covered politics, as a series of decisions were made during the Labor party's annual assembly last weekend.

The party decided to move for a new whitepaper on the fish quota system, and the party secured a majority in parliament for starting work on the aforementioned Northern Norway Railway.

There is a lot going on about communication and connectivity in the High North these days. Just look at the Arctic Connect project, which wants to construct a subsea fiber cable along 11,000 kilometers of Arctic seabed to provide fast internet connectivity along the route.

We also include the latest news from the High North Tour 2021, which stopped in Kirkenes to report the story about the new and fresh iron ore mine operation that is about to commence, following the mine's bankruptcy in 2015.

All this, and a whole lot more, you will find at High North News!


We wish you all the best for this final April weekend and cross our fingers for more of the good in-person meetings in the future!
Kind regards,
Trine Jonassen,
News Editor, High North News