French and Danish Navies Hold Joint SAR Exercises in Greenland's Waters

As Greenland made international headlines last month, the French Navy took part for the second year in a row to an Arctic search and rescue exercise organized by the Danish Joint Arctic Command off Greenland's coastal waters in Qaqortoq, Nuuk and Uummannaq.
Between 19-23 August, the Danish Joint Arctic Command (JACO) organized its now annual joint large-scaled search and rescue (SAR) exercise "ARGUS 19" in Southern Greenland.
And, for the second year in a row, the French Navy took part in the exercise alongside Danish forces, the US Coast Guard, the Greenlandic police and Air Greenland civilian aircrafts.
Based in Saint Pierre and Miquelon, a French self-governing territorial overseas collectivity near the Canadian province of Newfoundland and Labrador in the Northwest Atlantic, the Fulmar (P740), an ex-trawler and coastal patrol vessel, was once again deployed to Greenland for the occasion. The patrol vessel was joined by one of the eight Falcon 50M operated by the French Navy for maritime surveillance and based in the Lann Bihoue naval air base near Lorient (Brittany, France). 
Last year, the Fulmar, one of only two French Navy vessels to regularly operate in frozen waters,  and one Falcon 50 had already been deployed to Greenland for the Argus joint operations. In 2018, the exercise's scenario took the ships from Nuuk to Disko Bay, but this year, they went further South and docked in Qaqortoq, Nuuk and Uummannaq.
The scenario was based on a real event of a ship that mysteriously sank between Greenland and Iceland in the late 1950s. With the assistance of Greenland police's SISAK III patrol vessel, Air Greenland Bell 212 helicopter and Danish military ships and aircrafts, the Fulmar conducted a series of joint exercises to train for SAR in extreme conditions and Arctic environments. 
Arctic tourism boom prompts French SAR interests
As the Arctic cruise tourism industry is booming, so is the risk of an accident in icy waters where transport is a real challenge and rescue infrastructure are a scarce resource. Gone are the days where Crystal Cruises' Crystal Serenity crossing the Northwest Passage with 1,800 passengers onboard was seen as an oddity. Cruise ships venture further into the Arctic, away from well-established search and rescue capacities.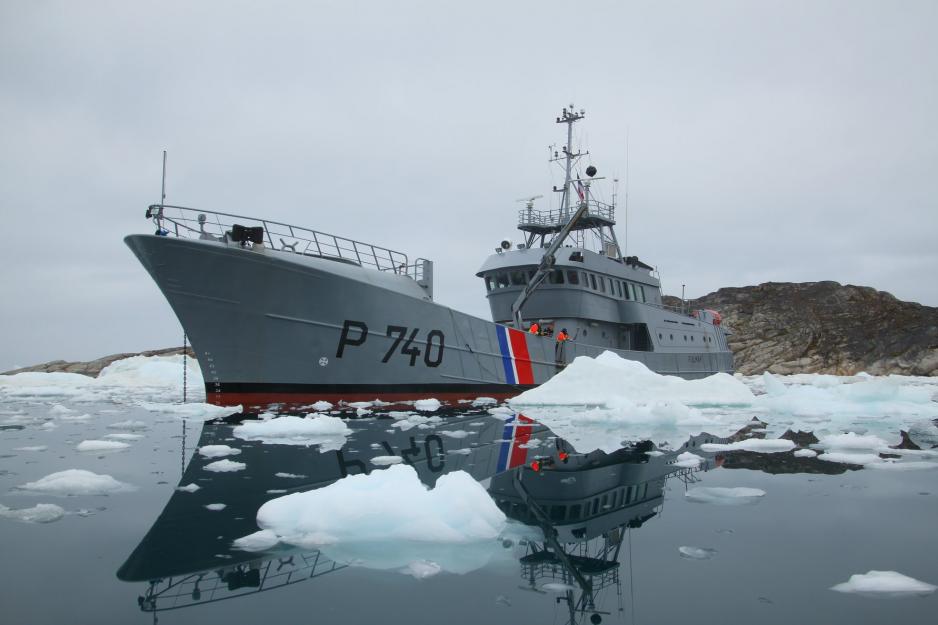 Such joint SAR operations and training are meant to answer a specific risk, highlighted by the Arctic Council's Emergency Prevention, Preparedness and Response Working Group last month. If a rescue operation such as that of the Viking Sky earlier this year was to happen in the Arctic, SAR cooperation would be vital to ensure the rescue, safety and well-being of all crew and passengers. 
The French Navy is well aware of those risks. For them, Argus 19 is an opportunity to conduct SAR training operations in Arctic waters where luxury cruises attract more and more French nationals every year. But French interests in being able to operate above the Arctic circle do not stop there. French cruise ship operator Ponant, which specializes in luxury polar cruises, is conducting a programme to double its capacity and is constructing more cruise liners.
One of Ponant's six explorers yachts, the Champlain, which joined the French ship operator's fleet in 2018, and its 200 passengers are currently cruising in Greenland's waters. In 2021, Ponant is also set to launch the Commandant Charcot, a new PC2 Polar Class luxury icebreaker powered by liquified natural gas that will be able to navigate in moderate multi-year ice conditions all year round. French cruise liners with mainly French passengers are expanding their cruise offers and tours to Greenland are organised on a seasonal basis.
Building infrastructure and cooperation
Cooperation plays a pivotal role in building robust search and rescue capacity. Last year, after the first edition, JACO wanted ARGUS to be held on a yearly basis and to attract even more stakeholders with interests in search and rescue. This year, although the end of summer is generally not favourable for the US Coast Guard  as they have to prepare for the hurricane season that sharply peaks from late August through September, the USCG sent two liaison officers and plans to step up and deploy some of its aircrafts for the 2020 Argus joint exercise.
As for the French Navy, they were also able to work with the Greenlandic police and to continue to improve their responsivity and to accumulate experience for SAR operations in the Arctic. Should a cruise liner accidentally be trapped in icy waters above the Arctic circle, France would be able to send resources and a rescue patrol such as one of the Falcon 50 whose naval air base near Lorient is only a four-hour flight away from Greenland.