Crossing the North Pole, Ice Breaking Under Your Feet
Two seasoned explorers on a trip to the North Pole, a place they have both visited before – even together once. You would think it was familiar territory. But for Børge Ousland and Mike Horn, the currently ongoing expedition has been anything but.
This is the second most-read article in 2019:
Børge Ousland and Mike Horn sailed from Nome, Alaska late August this year. Westwards, heading as far into the Arctic as possible, hoping to reach 85 of 86 degrees North. From there, they would leave the Pangea to ski 500 kilometers to the North Pole, a trip no one has done at this time of year before.
They have brought food for 75 days, some 6,000 kcal for each man, each day. One day's ration weighs approximately 1.1 kilogram. Each man pulls a pulka with some 170 kgs of food and equipment when setting out across the ice, snow and slush on the way to the North Pole.
Their expedition food is home-made. "That is how I know that I get exactly what I want, and the right mix of carbs, proteins and fat", experienced polar explorer Børge Ousland said prior to departure.
Dark, short and cold days
The sun sets on the North Pole around 23 September, only to remain below the horizon until six months later. The temperatures will reach -30 degrees Celsius, maybe even -35.
Once reaching the North Pole, the two adventurers had not even made it half-way through their trip. From the North Pole, they have another 700-800 kilometers to walk to the ice edge north of Svalbard, Norway. There they will be met by Horn's boat Pangea and its crew, which will take them down to Svalbard.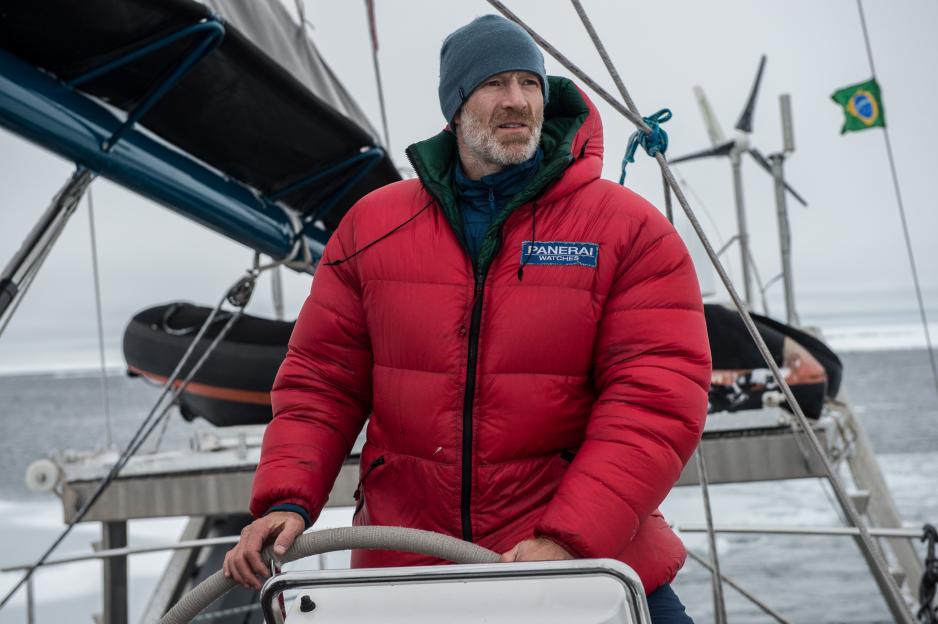 In 2006, Børge Ousland and Mike Horn skied to the North Pole together. Their trip lasted from 20 January to 23 March, having skied from the Arctic Cape, the northernmost point of Komsomolets Island in Russia, on the northeastern most point of the Kara Sea.
Seasoned polar explorer
The trip was not new to Ousland, he had done the same trip solo back in 1994; skiing alone from the Arctic Cape [Cape Arktichesky] in Russia to the North Pole with no supplies along the way. In 2010, he sailed – along with three others – both the Northeast and the Northwest Passages within one and the same season, a journey lasting from  23 June to 23 September, using a fiberglass catamaran.
Børge Ousland is one of the leading polar explorers of our time. The Norwegian has conducted solo expeditions to both the South and North Pole, as well as solo crossings of the Arctic and the Antarctica. His first expedition was crossing Greenland in 1986. At the time, he was working as a deep-sea diver in the North Sea. In 1993, he took the step and became a full-time explorer.
Børge Ousland is arguably the most accomplished polar explorer alive!
Mike Horn is a seasoned explorer too, and one whose expeditions are not exclusively polar. Originally born in South Africa, it was upon his arriving in Switzerland that he took up expedition life.
On his home page, Mike Horn states that his hobby is "preserving our planet". To further that, Horn has spent four years training and educating over 200 young explorers to join him on his Pangea expedition – Pangea being his sailing boat – to witness and experience first-hand while actively contributing to environmental conservation and social causes. At present, he is conducting a three-year expedition called Pole2Pole, an expedition during which he circumnavigates the globe via the South and North Poles.
Pole2Pole – with a possible delay
The Pole2Pole expedition commenced in May 2016, with his departing from Monaco Yacht Club. The expedition first took him to Cape Town and later Antarctica, where Horn crossed the Antarctic continent at its widest via the South Pole. The Pole2Pole expedition was scheduled to end at the place where it started, in Monaco, in December 2019.
However, reaching that goal would now require some speedy skiing and good conditions in Svalbard these days. With the two explorers still out on the ice, it appears more than likely that the schedule for reaching Monaco will be slightly delayed.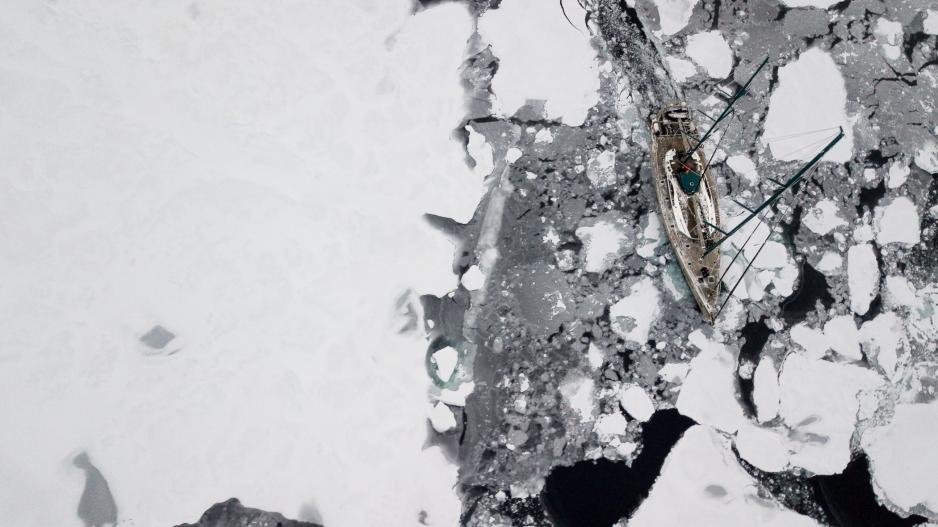 Ousland also has a heart beating for social responsibility and in 2012, he and French explorer Vincent Colliard started the 'Ice Legacy' project. The project focuses on global warming and on the importance of glaciers in the world's climate. Børge Ousland and Vincent Coliard will cross all the 20 greatest glaciers in the world during the duration ofthis project.
The project also has ways through which Ousland's knowledge from decades of pushing limits will be transferred to a younger generation.
Børge Ousland, 11 September
"We are now at 85 degrees north, at the Pangea. Mike Horn and I will cross the North Pole. We have pressured as far into the ice as we can with the sailing boat, and it has been adventure like no other. (…) Now the boat will try to get back out from the ice and sail to Svalbard. Tomorrow, Mike and I will head out from here and walk towards winter, towards the North Pole, and then continue to Svalbard, where the Pangea will hopefully pick us up mid-November."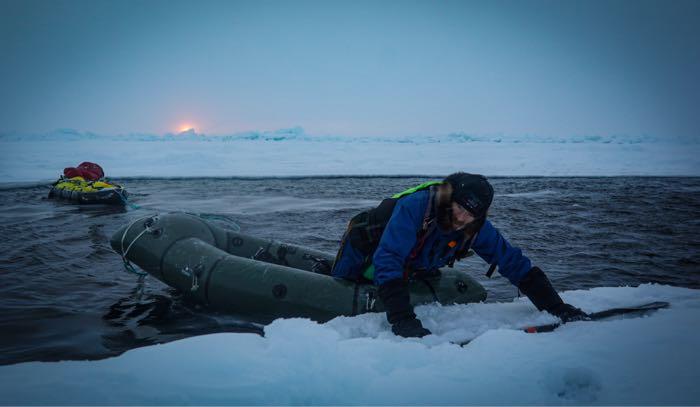 While their experience definitely has prepared them for the adventure, the trip has also brought the two explorers both challenges and surprises. On 16 September, Ousland reported about terrible conditions. There is thin ice and cracks everywhere, and the areas look as if they had been properly demolished. The two found a small floe measuring 50 x 100 meters and they were able to camp on it. Otherwise, the ice around them was so thin that it kept breaking under their legs when they walk on it. But some of their new gear made the job slightly easier, he said:
"We use pack rafts, and that works really well. (…) When we get to a crack, we just push our pulka into it, jump into the little rubber boat [i.e. the pack raft, journ.note] and paddle across, and then we climb up on the other side and push on."
Massive changes to the polar ice
Later, on 23 September, he said that the amounts of new ice surprised him.
"There is no doubt that there are massive changes to the Polar Ocean, and as far as I know, there is only 10 percent left here of the good, old multiple-year ice that has been drifting here for years. We keep trying to find two-year old ice to camp on, because it is thicker and safer. If a storm were to hit the area, there would be vast destructions in the area where we are."
Earlier he had explained how there are vast amounts of young ice, and some 50 percent of it is only 10 centimeters thick. On 1 October they had reached an area where the ice was 20-50 cm thick, a fact that surprised both Ousland and Horn. Two decades ago, that ice was up to two meters thick. "It is simply hard to find good camping spots," Ousland said.
No longer familiar
Mike Horn also appears to be affected by the changes in the ice and says the two were not expecting these conditions so far north:
"In a way, we feel a little naïve to have expected better. We once knew this remote region like the back of our hands, but at the pace at which things are changing, we are now foreigners on our own playground. Although humbling, this situation is still unsettling.»
If a storm were to hit the area, there would be vast destructions in the area where we are.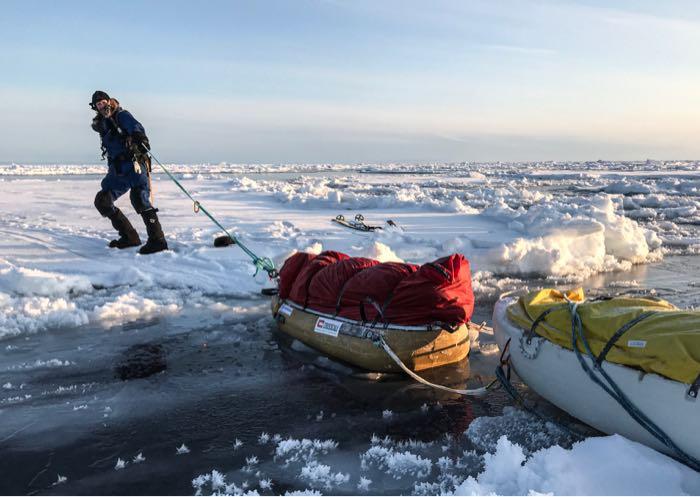 Keeping the routine
Mike Horn says the two usually start walking at around 6 a.m "Before that we eat a warm breakfast and pack our tent and our sleds, which takes about 30mins. We walk for about 90mins and then take our first break. Our break lasts about 10mins long, during which we sit on our sleds and eat and drink our daily rations. Every time we stop, someone else takes the lead. We repeat this process for about 7 to 8 hours every day."

And they are not the only ones walking in the area, polar bears are there too – which was not what he expected:
"We spotted some more polar bear tracks heading towards the pole. In the past, it was uncommon to find healthy bear tracks so far up north," he says.
Ice more scary than bears
Horn argues that because of the increasing open water down south, the bears have no choice but to head north to survive. The moment the bears will reach the pole, they will have nowhere else to go.
"Their home is disappearing, and we are in part the cause of this. It is thus important for me to share these observations with you. The world is changing right under our noses, and the speed at which it is changing is terrifying," he says. Yet the bears are not what really frighten him:
"The power of ice in movement scares me more than polar bears," Horn stated in an Instagram update.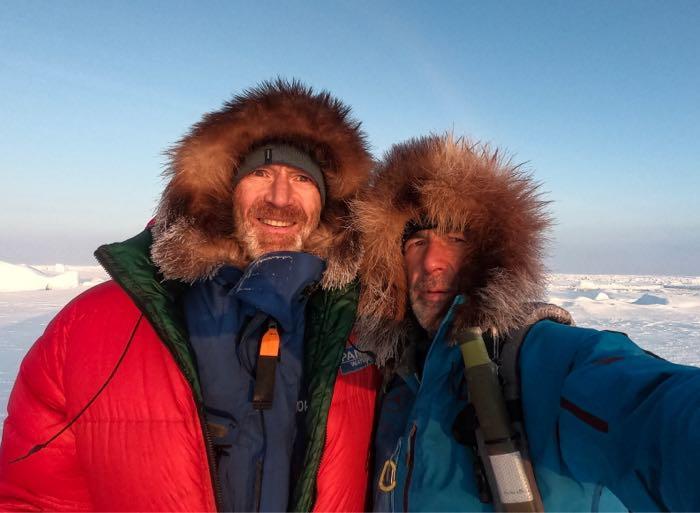 Celebrating at the North Pole
Ousland and Horn reached the North Pole at the end of October. "We have really struggled hard to get here", Ousland said upon arrival. But according to Horn, it was worth the while:
"We have finally made it to the North Pole! And how are we celebrating?! With a big piece of alcohol-drenched Mike Horn cake. Recipe by my old friend and talented Michelin-starred chef Philippe Rochat. He created a candied-fruit cake soaked in rum that wouldn't expire and that wouldn't freeze in even the coldest temperatures. What a luxury to be eating something so delicious in one of the world's most remote locations!"
The two explorers had used 36 days skiing to the North Pole, a few days more than planned. They then had food for 49 days left.
The power of ice in movement scares me more than polar bears.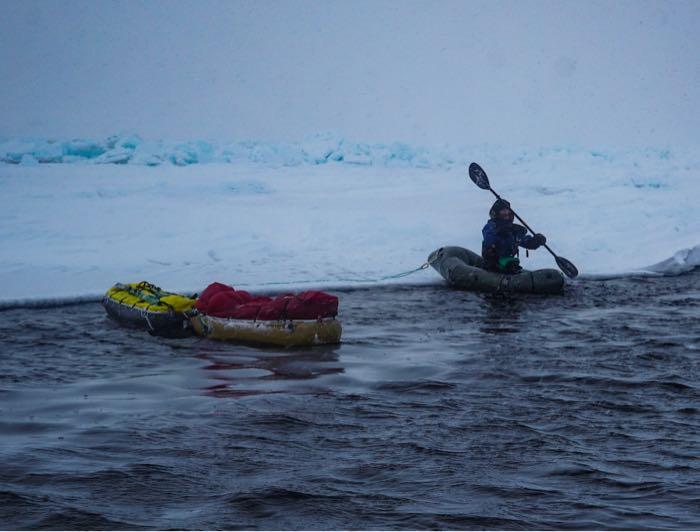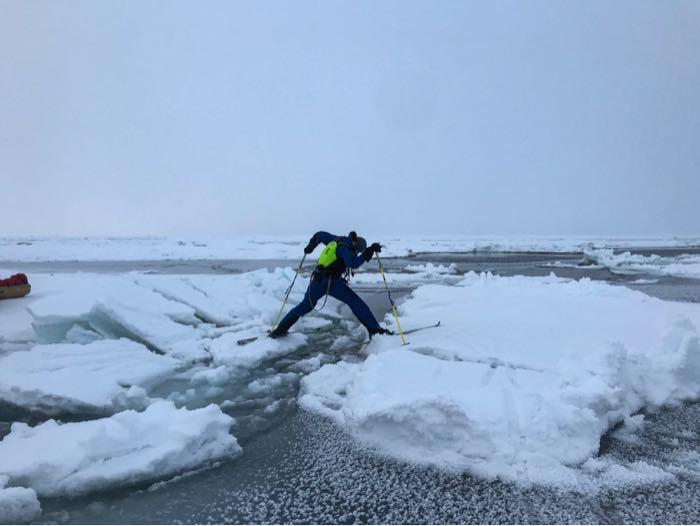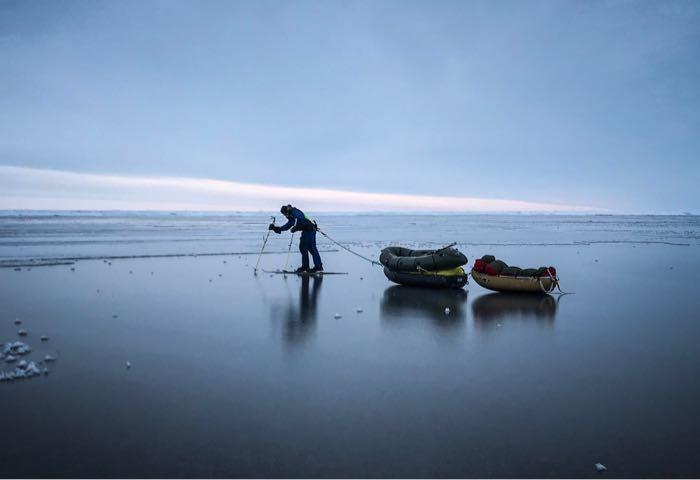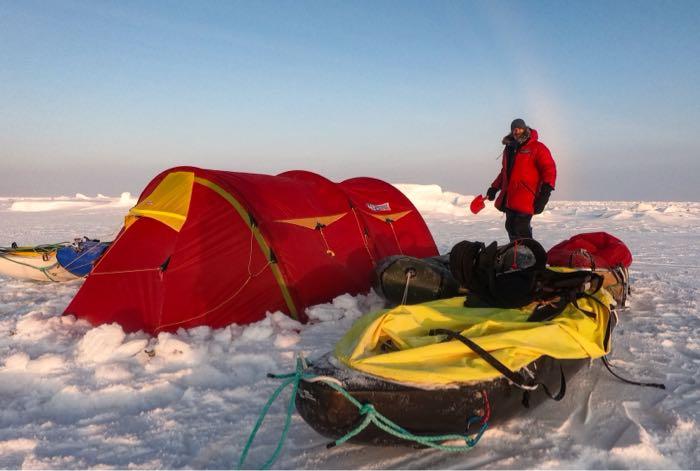 Near-disaster
On 4 November, the two almost had a disaster when Børge Ousland nearly capsized in a big open water lead. The two were unable to hear each other due to strong winds. However, it went well in the end and Horn says it feels good to know that they are heading home.
"We are now passing the latitude of 89 degrees north as we slowly but surely make our way south. It feels good to know that we are on our way back home and not moving further from it, but closer to it. The drift is now pushing us towards Greenland, although we are headed for Spitzbergen, so we now have to walk southeast to compensate for the western drift," Horn said two days ago.
At present, the two are underway from the North Pole down towards Svalbard, where the Pangea and the rest of the expedition crew are awaiting them at the ice edge.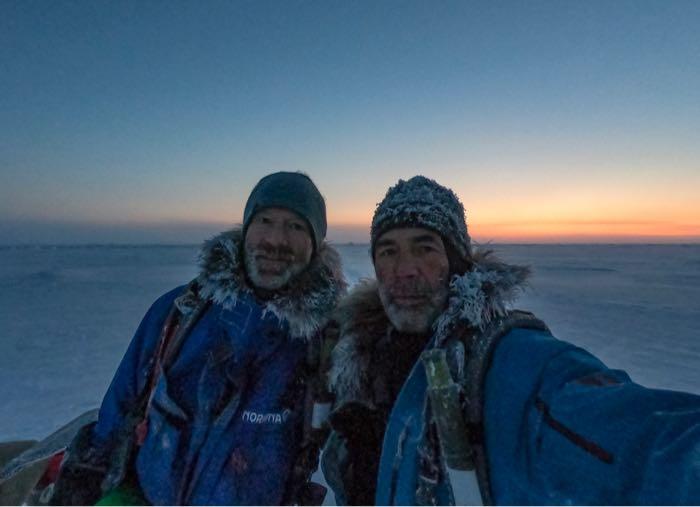 Statements from Børge Ousland are taken from his soundbites at the expedition sponsor Helsport's Instagram account.
Statements from Mike Horn are taken from Horn's Instagram account.
Photos from the ice are courtesy of Mike and Jessica Horn.