Commentary: Confessions of a Southerner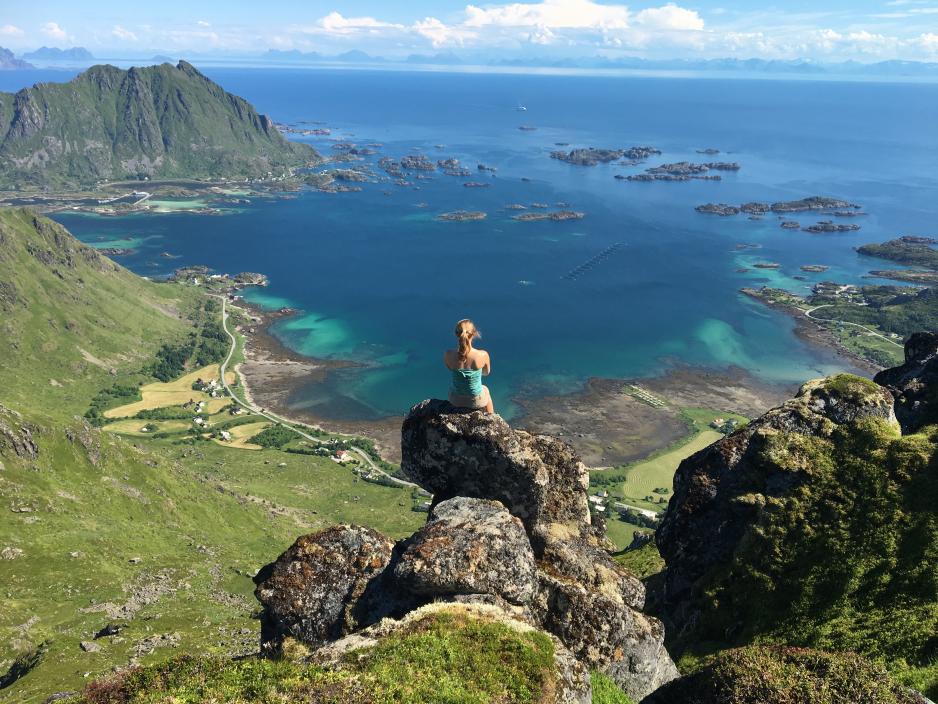 "Had I been offered a job in Brussels, I would have accepted in a heartbeat, but the seemingly remote town of Bodø was a different story".

Three months ago I packed my bags and relocated from Oslo to Bodø, a Norwegian town just north of the Arctic Circle and with a population of 50,000. I came to Bodø to work as a communications advisor at the High North Center for Business and Governance at Nord University. I've had an amazing spring and summer, filled with mountain hikes in the midnight sun, enchanted musical spectacles at the remote island festival Trænafestivalen and lazy days in the gorgeous Lofoten Islands.
Klikk her for norsk versjon.

Life north of the Arctic Circle has changed me in subtle ways. I've learned to enthusiastically embrace the coastal climate (constant wind means I don't have to worry about mosquitoes!). Trips to the gym have been replaced by hiking, kayaking and sailing. For the first time in my life, I can boast the latest fashion in rain gear. Headlines along the lines of "Record-breaking halibut caught by local fisherman" would never have roused my interest before; these days, I swallow the clickbait with great interest.
However, a recent incident made me realise that my worldview has also been affected; there has been a boreal shift in my way of thinking. I was invited to a birthday party in Oslo, and I posted on the Facebook event that I would attend if I were down South that weekend. A friend replied "Clearly you're well integrated up North when you define Oslo as down South!"
His comment made me do a double take. I conjured up an image of the map of Norway, fitting it with an imaginary belt around its slender waist. The geographical centre of Norway is the town of Steinkjer, some 470km north of Oslo as the crow flies. Surely it must be accurate to call Oslo "down South"? How could it be that that my clever and highly educated friend could disregard this simple geographical fact?
In the midst of my bewilderment at his reaction, it struck me that I would have had the exact same thought just a few months back. In my previous experience, "South" was tantamount to Norway's southern coast with its idyllic summerhouses, something located south of the geographical starting point: the capital city. I suddenly realised that my worldview contained a little unseen arrow pointed at Oslo, bearing the legend: "You are here".
So this is my confession: I was one of those Southerners who couldn't see beyond the end of my nose. Despite having worked on Arctic issues, and being well acquainted with the economic, military and cultural significance of northern Norway, I never fully grasped what it means the see the world from "up North".
For many Norwegians, the North feels like a distant concept. I had to actually live here to see the value creation, the economic growth and the optimism in the region. When I arrived, I was surprised by the international work environment at Nord University. Young, promising academics from all over the world found their way to Bodø, which was recently named the most attractive town of Norway. Like me, these expats are impressed by the quality of life, the professional opportunities and the beautiful scenery.
However, I suspect that the reason why Nord University has recruited so many international talents, is because Norwegian job-seekers are less open to relocating for work. I myself had to do some serious thinking when the dream position opened up far beyond the reach of the Oslo metro grid.
I've worked and studied in four different countries, and I'm not afraid to break up the routine and look for new challenges. Had I been offered a job in Brussels, I would have accepted in a heartbeat, but the seemingly remote town of Bodø was a different story. With the exception of members of the armed forces and doctors doing their mandatory service, I hardly knew anyone who have chosen to move to northern Norway.
After three months in Bodø, I can happily conclude that I made the right choice. I would recommend anyone who is fed up with the cramped real estate and job markets in Oslo to cast a wider net as they search for work and accommodation. As a newly minted Northerner, I am grateful to have the opportunity to pursue my career goals while getting better acquainted with my own country.
I'm new to the North, with only three months as a resident, but that was all it took to make me see things in a completely new perspective: up North is where it's at.