Commentary: The Arctic and a Trump Administration yet to come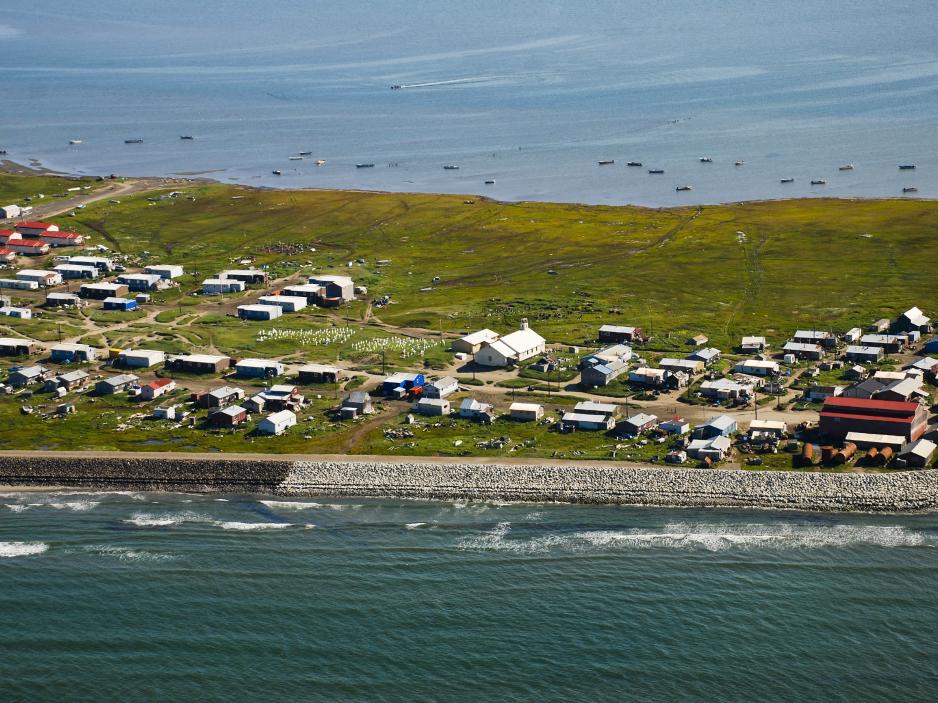 The recently released NOAA Arctic 'report card' once again attempts to draw our attention to a persistently warming Arctic. Average surface air temperature for 2016 was by far the highest since 1900. The sea ice extent at the end of summer 2016 is the second lowest since satellite monitoring of sea ice extent began in 1979, tied with the shock year of 2007.


The recently released NOAA Arctic 'report card' once again attempts to draw our attention to a persistently warming Arctic. Average surface air temperature for 2016 was by far the highest since 1900. The sea ice extent at the end of summer 2016 is the second lowest since satellite monitoring of sea ice extent began in 1979, tied with the shock year of 2007.
Climate change in the Arctic is happening 'faster' than in other parts of the world. Like the glimpse of the bleak future that the 'Spirit of Christmas Yet to Come' showed Ebenezer Scrooge, the rapidly changing Arctic reflects consequences of the carbon-intensive economies of today. Unlike Scrooge's dream, however, Arctic change has already happened. The socioeconomic consequences of climate change are already making themselves felt in the Arctic.
Earlier this autumn, the Alaskan village of Shishmaref voted to relocate due to coastal erosion, rising sea levels and melting permafrost. Kivalina and Newtok are also forced by rapid climate change to consider relocation plans.
Much has been said of Trump's ascendancy to power and its likely negative effects on global issues. He has consistently questioned the reality of global climate change and has yet to say much about the Arctic at all. Here are some speculations (not a comprehensive list) on how Trump may affect some of the more 'international' aspects of the rapidly changing Arctic.
Will a Trump administration unconcerned about global climate change provide extra incentives for Arctic offshore oil and gas development? In terms of the American Arctic, Alaska's economy has been in steady decline, with a 2% decline in GDP in 2016. This is in keeping with an overall 20% decline in the contribution of the extractive industries the American economy.
Alaska is an example of the natural-resource dependent rural state in decline that Trump promised to reinvigorate. However, the Department of Interior has excluded the Chukchi and Beaufort seas from its five-year outer continental shelf lease plan (2017-2022). And in 2015, Shell ceased exploratory activity in Chukchi Sea of its own accord due to market concerns and unpromising findings.
A Trump Administration could indeed reverse or alter the continental shelf lease plan  – even if it took some time. However, oil and gas extraction requires major funding and long horizons for return on investment. Stability and clarity in regulatory regimes and the long-lines of policy matter for oil and gas producers. It's difficult to see how oil and gas could resolve Alaska's immediate and worrying economic challenges. Any change in the Trump Administration's take on Arctic offshore petroleum resources is probably best understood as symbolic politics.
At the international level, Arctic diplomacy and cooperation would naturally be destabilized by any acute change in the global security architecture. During his campaign, Trump made difficult-to-interpret rumblings about the NATO alliance. While NATO has not actively pursued a specifically Arctic role, it provides a stable security backdrop against which other forms of Arctic bilateral and multilateral cooperation can take place, also with Russia. 
We may also see change in the balancing act between the two 'pillars' of cooperation at the heart of the Arctic Council – sustainable development and environmental protection. Documenting climate change and even implementing climate mitigation projects, like limiting black carbon, have been a major contribution of this regional forum to global politics. The US is extensively involved in the Arctic Council's work and early results from the NUPI-coordinated POLGOV project show that US agencies are currently leading over 20% of the projects ongoing in the Arctic Council (more than twice the percentage of any other country).
US efforts in the Arctic Council have often been tied to global environmental protection policies and programs conceived in Washington, rather than in distant Anchorage. An emphasis on the environmental protection pillar of the Arctic Council over the sustainable development one has occasionally been to the dismay of countries that have national economies more heavily dependent on Arctic resources.  This emphasis could change, with the Arctic Council losing a superpower's voice on environmental protection.
Speaking of Russia, the prospect of a new 'reset' in Russia-US relations is much speculated about. In the Arctic, however, US and Russian cooperation never ceased at the formal level. High-level circumpolar military cooperation was indeed suspended following Russia's annexation of Crimea in 2014. But the US and Russia continued to partner on a number of key areas of cooperation – search and rescue, emergency preparedness and response, environmental clean-up of pollutants in the Russian North.
The lifting of sanctions may change Russia's options for developing Arctic natural resources, possibly adding a stronger business dimension to American-Russian relations. The question remains to what extent the shareholder-owned petroleum companies based in the US, playing the long game of investment and return, would wish to be too reliant on one American president or another.
A lot of what happens in international politics happens in relative obscurity. New forms of governance are driven forward (slowly!) by broader policy networks, often involving top-level civil servants who have also dedicated their entire professional careers to understanding and achieving progress on a few key areas. Arctic networks may find that they are quietly celebrating the resilient autonomy of the bureaucracy (something which has caused so many theorists of democracy to despair).
These quiet workings of network politics are important, but probably not enough on their own to manage the magnitude of Arctic change underway. High-level political interventions have absolutely mattered for Arctic politics at many junctures: unlocking deadlock on global climate change negotiations, creating global action on transboundary pollutants and opening up new areas for cooperation, like the recent Central Arctic Ocean fisheries treaty.  In the absence of such high-level political leadership, the rest of us and our voices and our personal and collective choices and actions matter even more.
Scrooge was shaken at the sight of his own tombstone and poorly attended funeral. He begged the Spirit of Christmas Not Yet to Come for an opportunity to change:
"Men's courses will foreshadow certain ends…But if the courses be departed from, the ends will change. Say it is thus…!"
Scrooge awoke, clinging to his own bedpost and committed to transforming his ways. We can't be sure what Trump's Christmas Eve sleep will bring in terms of policy -insight, but let's consider carefully our own new year's resolutions.