Border Seminar 2022: "We Must Check for Both Pessimism and Illusions in Our Perception of Russia"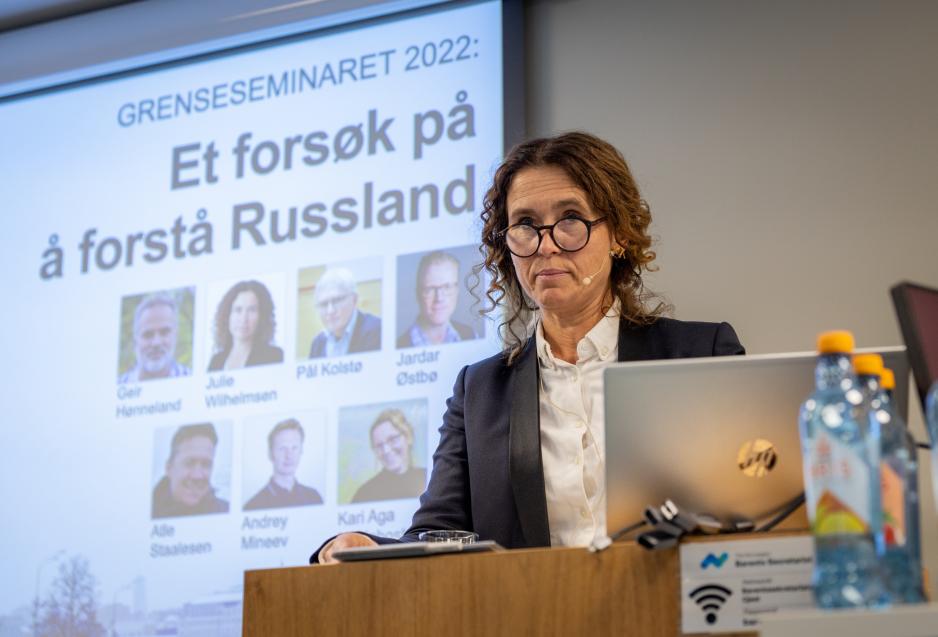 Russia researcher Julie Wilhelmsen made this a point at the recent Border Seminar in Kirkenes. The seminar, framed as an attempt at understanding today's Russia, offered nuances and interesting insights into the neighboring country, according to residents of the border town.
In Kirkenes, close to the Norwegian border to Russia, the 13th of October:
On this day, researchers, locals, journalists, and people working with independent parties in Russia, come together for the Border Seminar of 2022. The organizers are the Barents Institute at UiT the Arctic University of Norway and the Norwegian Barents Secretariat. 
In a crowded room at the Barents House, seven experts on Russia give lectures on how different aspects of our great neighboring country in the North can be understood.
Among them is Julie Wilhelmsen, Senior Researcher at the Norwegian Institute of International Affairs (NUPI). The topic for her contribution was navigating between pessimism and illusion in our knowledge of Russia under Putin.
"Never before has it been as difficult and as important to assess Russia," says Wilhelmsen at the beginning of her lecture.
Among other things, she points out that present-day research on Russia is being politicized in the wake of the Ukraine war, and that the researchers are struggling to maintain a multidimensional perspective. 
The art of navigating
"Us researchers are forced down from the bird's eye perspective and to our [western, editorial note] side. Ukraine is exposed to an unjust and cruel war of aggression that breaks international law. We must stand together against this attack. At the same time, we must check our judgment of Russia for both pessimism and illusions," says the NUPI researcher.
"The pessimism which says that implacable hawks have ruled Kreml since Putin gained power. That Russia is imperialistic and expansionist, regardless of what the rest of the world might be doing. And on the other side, the illusion: that it is still possible to appeal to the Putin regime, to give them something so they will step back."
Navigating between these two poles is demanding, and we might not be able to, specifies Wilhelmsen. However, so much is at stake that it demands an effort. 
"What will be lost if we give in to pessimism?"
A look at Western values
"Our judgment problem spreads down the Putin state to ordinary Russians: Are all Russians complicit in this terrible war, since they do not openly oppose it? Are all who cross the border in the North potential Russian agents?" she continues.
Wilhelmsen also notes that the recent developments are unsettling and that the war may be expanded to be between Russia and NATO.
"We must therefore be prepared and let go of our illusions, but as a society, as researchers and people, we must ask the question: What is lost if we give in to pessimism? This is partly about our fundamental values. In our judgment of Russians at the border: No one is guilty until the opposite is proven. And with regards to the Russian people as a whole: We do not believe in collective guilt, is it not so?"
"Imagining a better future with Russia will not be possible either if we have no illusions that many Russians want peace and cooperation, and will be able to follow up long-term. Our politicians must create a policy which contributes to such forces on the Russian side," believes Wilhelmsen.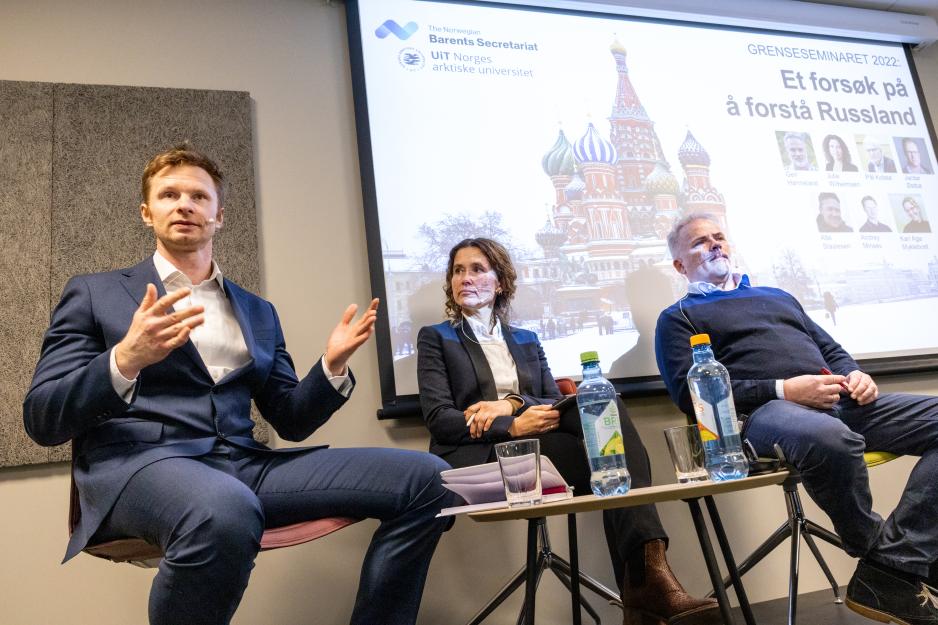 Means a lot
A familiar face for many, Rune Rafaelsen from the border town in the North, was also in the audience of the Border Seminar.
"This seminar is valuable. Addressing this topic in Kirkenes specifically is also important. I have worked on Russia for almost 40 years, so this is very useful for me personally," he states.
The former mayor of Sør-Varanger (Labor), with a background as the leader of the Norwegian Barents Secretariat, says he recognizes Geir Hønneland's description of the framework for Norwegian sociological research on Russia in the 1990s and 200s. 
Hønneland, senior researcher at the Fridtjof Nansen Institute and professor at Nord University, shared his reflections on the scope of such research after the Cold War.
"When Hønneland spoke, I experienced deja vu of how this is developing. We sat here in the Barents House and felt the political pressure to support Russia research. From being quite few, it is fun to see how many researchers have joined us in the field. We also received funds to support the establishment of the Barents Institute here in 2006. I would like to commend the political management which stimulated this development," says Rafaelsen.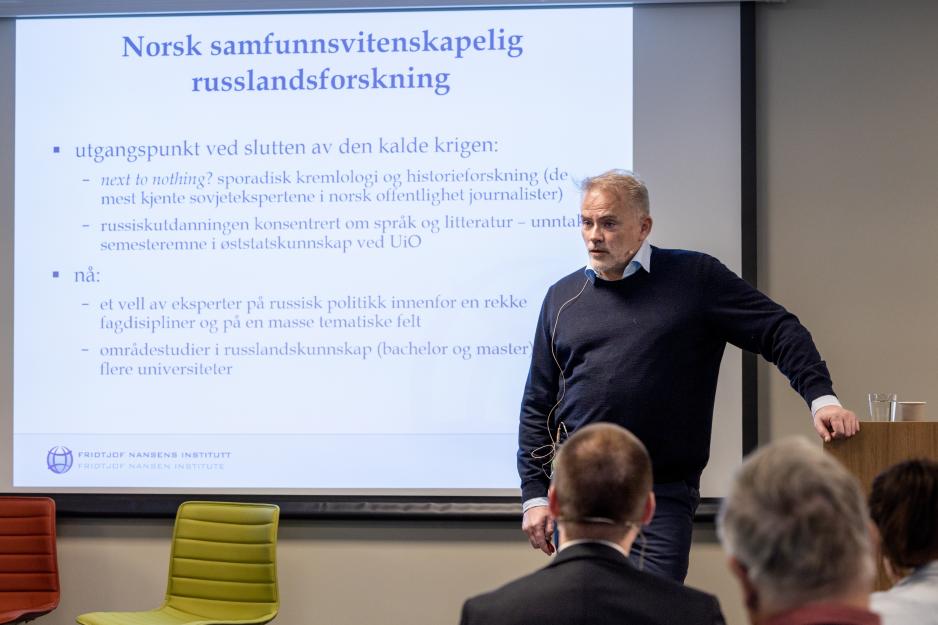 Memory policy and warfare
Rafaelsen also emphasizes the lecture on the history and memory policy in borderland by Kari Aga Myklebost, Barents Chair in Russian Studies at UiT.
Myklebost gives an in-depth presentation on Russian memory policy and its close connections to security policy. In the center is the narrative of Soviet Russia's honorable victory over Nazi Germany during WW2, which is meant to serve as a unifying point of reference for the Russian population.
At the same time, this narrative meets tough resistance from the former East Bloc countries Ukraine, Poland, and the Baltic states, who have formulated their own narratives on the war as part of their secession.
"What can we conclude with when it comes to history and memory policy in border areas here in the North? That Norwegian and Russian authorities have had very different interests and agendas when it comes to protecting war memorials and joint liberation commemorations," she says.
Norway and Russia have had very different agendas when it comes to protecting war memorials
Different springboards
"From the Norwegian side, the October and May gatherings here in Kirkenes has been an opportunity to meet at a top political level and to get Russia talking on bilateral issues that are important for Norway," states Mylkebost. 
She refers respectively to commemorations of the Soviet liberation of Eastern Finnmark in the autumn of 1944, as well as to the victory in the Second World War as a whole.
"From the Russian side, joint war memorials with Norway have increasingly become a symbolic resource in the larger war about the war, which again is about Russian security and geopolitical interests today and which has resulted in the war in Ukraine."
In Russia, Norway is presented as an ally in the fight against perceived Eastern European falsification of war history, and the effect this has on domestic politics should not be underestimated, believes the Barents Chair.
"Based on the amount and content of the Russian media coverage, it is clear that this is important for Russian state actors," she adds.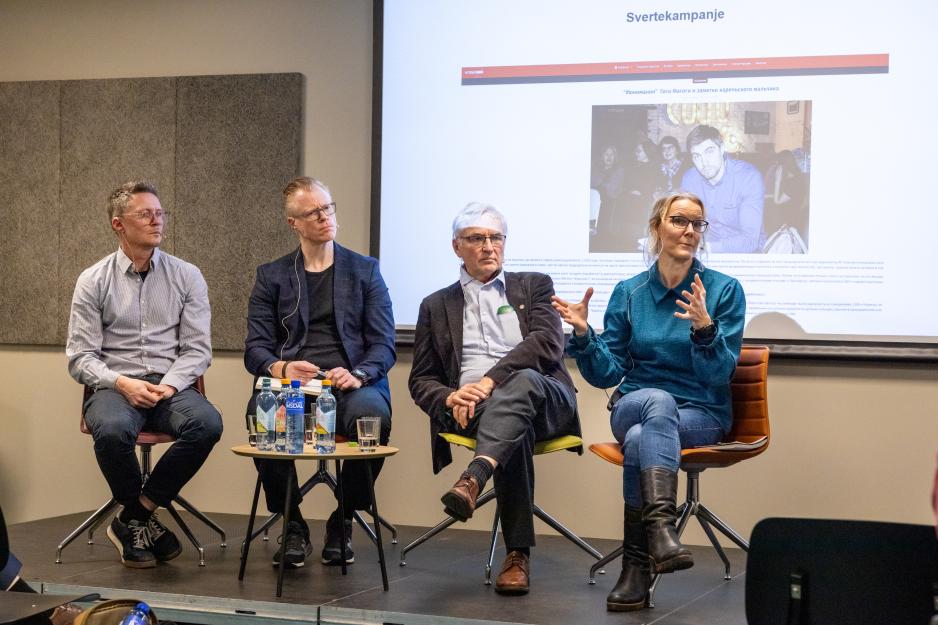 Provides a long-awaited refill
"Parts of the seminar were very research-oriented, but I still found it just as interesting, as well as relevant for us who work with art and culture. At the time, there are many of us who are hungry for more information and knowledge about this neighboring country, and today, I learned more about ongoing developments in Russia from very talented people," says Astrid Fadnes.
Fadnes is the communications manager for Pikene på Broen (The Girls on the Bridge), a collective of curators and producers in Kirkenes. As High North News has previously reported, this collective is keeping the 'bridge of art' over the Russian border open.
The lecture she found the most remarkable, was one about the Russian Orthodox Church which was given by Pål Kolstø, professor of Russian Studies at the University in Oslo.
"His explanation of how much political power the Russian Orthodox Church has in Russian politics was very exciting. Especially as it is so far from our strong secular reality in Norwegian politics. The title of the seminar, 'An Attempt to Understand Russia', is very good, I think. We must also continue trying to understand Russia," she says.
Found resonance
Curator Neal Cahoon, Fadnes' colleague in Pikene på Broen, also learned a lot from the insight Kolstø gave into the role of the church in Russia's political landscape.
"This is a topic I have not given much thought to in the past. But I am more curious now and want to find out more about the Russian chapel in Boris Gleb here on the border with Norway." 
The curator also noticed a significant common denominator between the field of research and that of art and culture in the meeting with a Russia waging war and Western counter-sanctions.
"When it comes to cooperation with people on the Russian side, it was interesting to hear that researchers have similar challenges to us and to gain a better insight into their research both on and with Russians. I did not have any new ideas for new approaches to our situation, but it was nice to listen to them," says Cahoon.
Collusion between church and state
"I have researched the Russian Orthodox Church for a long time and found that it has its own agenda and gravity in the Russian system. At the same time, it has been increasingly forced to dance to Putin's tune," says Kolstø from the podium earlier in the afternoon.
The professor points out how the church and its head, Patriarch Kirill, have both indirectly and directly, been pressured into supporting the president and his policy in a field that conflicts with its own interests, like the annexation of Crimea and the subsequent tough Russian-Ukrainian conflict.
"When Kirill became patriarch in 2009, he led more Ukrainian than Russian congregations. If he were to back the annexation, he risked losing influence in Ukraine. Back then, he was allowed to be absent from the big meeting in Kreml when Crimea was annexed. As for the current war, however, Kirill has been told to support it from the start, something he does in his own bizarre way.
Among other things, the patriarch has stated that "the military special operation" is necessary because Pride parades are being held in Kyiv, and that soldiers who die during the operation are martyrs. The Ukrainian Orthodox Church detached from his leadership in 2018.
Kirill has also previously blessed Russian atomic bombs, states Kolstø. 
"This is a collusion of the political, the military, and the religious, which is quite fateful," says the professor, pointing to the Main Cathedral of the Russian Armed Forces, consecrated in 2020, as a physical symbol of this.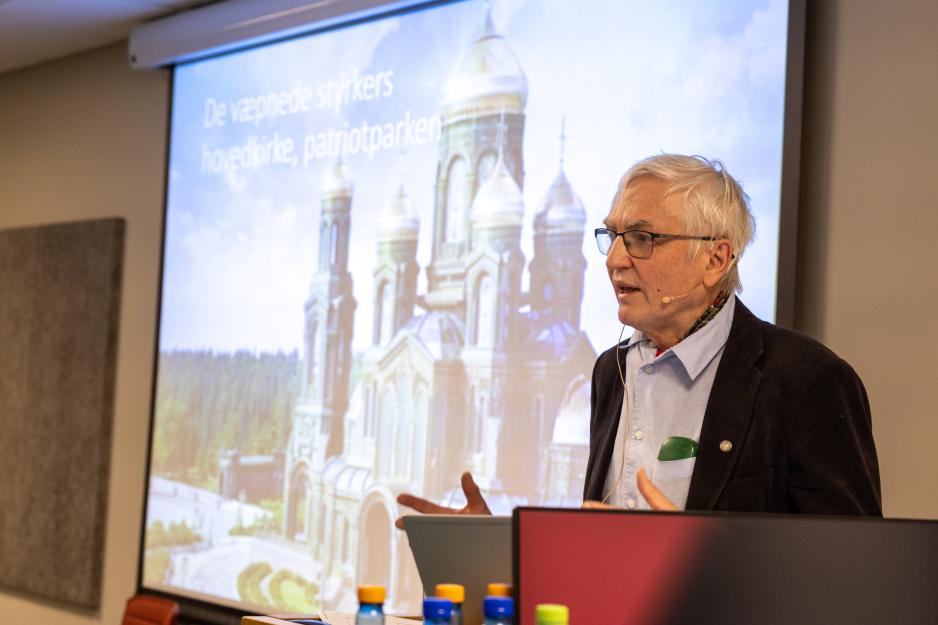 An eye for the many nuances
A brilliant seminar thinks Arnt Uchermann, who has 12 years behind him as the Northern Norway Regional Health Authority's expert on Norwegian-Russian health cooperation.
He and his wife Anne Flaatten found Wilhelmsen's lecture especially interesting. 
"The value in protecting the thinking and analytical aspects of today's perspective on Russia was described particularly well by her," says Uchermann.
"There is a tendency for all nuances and attempts in today's debate to shed light on what has happened, to be taken as income for Putin; that one will have to demonize Russia completely in order to not be demonized oneself," he points out.
"A number of things that I consider important have been put into words at this border seminar," adds Flaatten and continues:
"Yes, we might have been living with overly optimistic notions, but we cannot only be demonizing either. It is about having two thoughts in your head at the same time, something I think Wilhelmsen formulates well."
She has many years of experience in municipal politics in Sør-Varanger, including as deputy major (Socialist). Through this, she has also had significant contact with the Russian side, for example through commemorations and friendship dinners. 
"I can never accept Putin's invasion of Ukraine, but that does not mean that I have to despise Russia as a whole and everyone who lives there," says Flaatten.
All lecturers at the Border Seminar of 2022
Geir Hønneland, Senior Researcher at the Fridtjof Nansen Institute and professor at Nord University: The scope for Norwegian sociological research on Russia after the Cold War - some reflections.
Julie Wilhelmsen, Senior Researcher at the Norwegian Institute of International Affairs: How to navigate between pessimism and illusions in our knowledge about Russia under Putin?
Andrey Mineev, Researcher at the High North Center for Business and Governance, Nord University: Research cooperation is existentially important for both Norway and Russia - interdisciplinary dialogue about the Arctic's future can be the salvation
Jardar Østbø, Professor at the Norwegian Institute for Defense Studies: Russian corruption – the communism of our time?
Pål Kolstø, Professor of Russian Studies at the University of Oslo: Quo vadis – the Russian Orthodox Church?
Kari Aga Myklebost, Chair of Russian Studies at UiT: History and memory politics in borderland
Atle Staalesen, Journalist in the Barents Observer: Free media on the gallows
This article was originally published in Norwegian and has been translated by Birgitte Annie Molid Martinussen.