'Arctic browning', a decline in biomass or productivity in Arctic regions, can severely impair the Arctic's carbon dioxide uptake and therefore accelerate climate change, a recent study concluded.
"We've found that Arctic browning driven by extreme climatic events can halve the ability of widespread Arctic heathlands to take up CO2," states Rachael Treharne of Sheffield University, the lead author of the research article.
Extreme climatic events are driving browning
Treharne explains to HNN: "Extreme events linked to winter weather are among the key drivers of Arctic browning. These events can cause sudden plant dieback and damage across huge areas." The study published in Global Change Biology measured respiration and productivity of the Arctic vegetation, based on observations of heathland in northern Norway, specifically the Lofoten Archipelago.
Two extreme climatic events in particular lead to Arctic browning and severely affect the vegetation in the Arctic: frost drought, during which the loss of plants' protective snow layer leaves vegetation exposed to harsh conditions (such as mild temperatures or high winds), accelerating the loss of water which plants can't replace from still-frozen soils; and abrupt periods of extreme warming in winter, during which plants prepare for spring, only to be caught off guard by plummeting temperatures later.
Similar effects in dying and stressed vegetation
Whereas these events typically result in the plants dying, they can also lead to severe stresses, even though the plants survive. However, unexpectedly the vegetation's stress reaction has similar effects when it comes to carbon dioxide. Treharne clarifies: "It is surprising that these reductions are so similar, suggesting that extreme events can have major impacts on ecosystem CO2balance even where vegetation is not killed."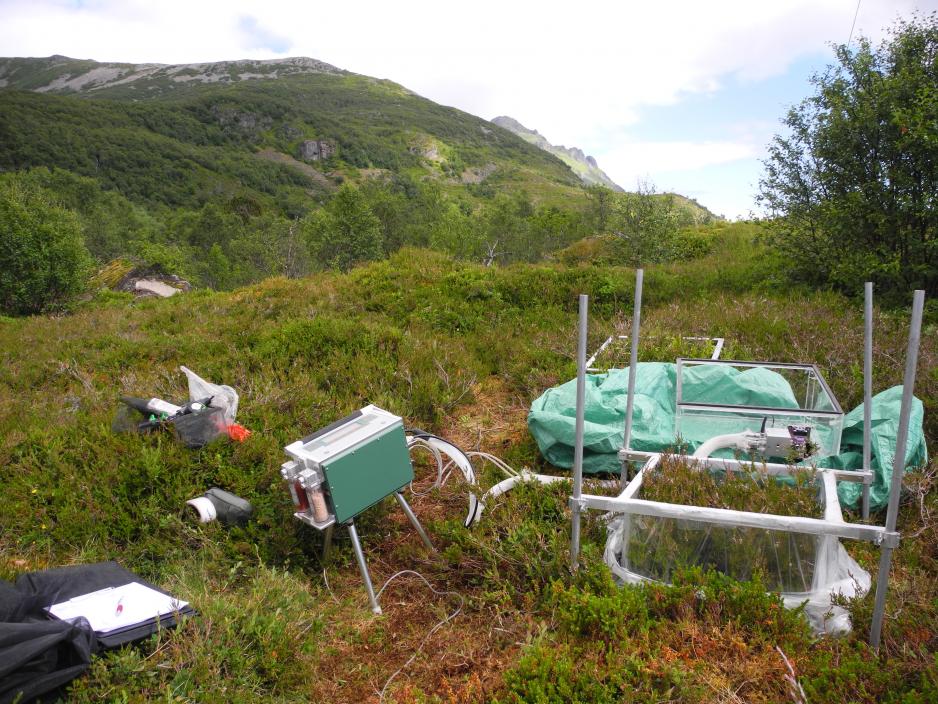 Extreme events more frequent
According to Treharne, these extreme events are likely to become more frequent due to climatic changes: "Many of the events causing this dieback and damage in plant communities are happening more frequently due to climate change, which is progressing exceptionally rapidly in the Arctic."
"This has implications for the role of the Arctic in global climate, and thus for whether the impacts of climate change in these ecosystems will slow or accelerate future climate change."
Widespread phenomenon
Treharne points towards how widespread Arctic browning is: "Over the last few years we've seen a range of extreme events driving browning across thousands of square kilometres. We've even seen these events causing record browning across the entire Nordic Arctic Region."
Overshadowed by Arctic greening
Nevertheless, in contrast to Arctic greening and other phenomena linked to climate change in the Arctic, Arctic browning has largely been overlooked in the discussion.
Treharne: Getting a better "understanding is also especially important due to the stark contrast between Arctic browning and the more well understood Arctic greening trend, whereby vegetation increases in stature and productivity due to gradually increasing summer warmth in the Arctic."
During his IASC (International Arctic Science Committee) Medal award lecture at the Arctic Science Summit Week (ASSW) last year, Terry Callaghan, Professor of Arctic Ecology, also expressed his concern about the predominant focus in current research on Arctic greening instead of browning or on studies on parts of the Arctic that don't experience change.
Treharne also cautions to take the findings about Arctic browning into account in research and political discussions: "Many climate models currently assume arbitrary levels of greening and therefore increasing CO2 uptake across the Arctic – our results suggest that extreme events may increasingly call this into question." This would also mean that climate change is likely to be more severe than generally believed.
In time for the Katowice Climate Summit (COP24)
"It is almost impossible to overstate the seriousness of climate change impacts on the Arctic. The Arctic's climate is warming more than twice as fast as the global average and has been described as shifting to 'a new state'," says Treharne. "This has profound consequences for ecosystems, for Arctic people, and for the rest of the world."
Treharne's and her colleagues' study was published just weeks before the recent Katowice Climate Change Conference (COP24) in Poland, where the Parties to the United Nations Framework Convention on Climate Change met from 2nd to 14th December.
"Ambitious action urgently needed"
Treharne warns: "We urgently need ambitious action on our emissions if we are to minimise Arctic warming, and its potential to accelerate future climate change worldwide. Our results add to this urgency. COP24 must deliver a strong rulebook for the Paris agreement and commit to immediate and ambitious climate action."
She points to the scientific findings regarding climate change and related processes: "Science has already produced a wealth of evidence showing the need for action, and the consequences should we fail to deliver. The impacts of climate change we are already seeing - in the Arctic and worldwide - are evidence that our response so far has been dangerously inadequate."
"The question now is whether leaders in Katowice will respect the science they have requested and respond to the reality of the situation we are all facing."
Social impacts of browning
In addition to the social impacts of climate change worldwide, Treharne emphasizes the repercussions of Arctic browning and related processes: "In the Arctic, some extreme events including those which cause browning can have additional implications for local communities. These events can damage local infrastructure, and can be catastrophic for reindeer populations."
During his lecture, Callaghan argued: "When we do our work, we often get fascinated by data, but sometimes forget why we're doing it. Of course the reason why we're doing this, is the people. And in the Arctic we have lots of people, even if they are sparsely distributed."