Andøya May Bring Norway Into The World's Satellite Elite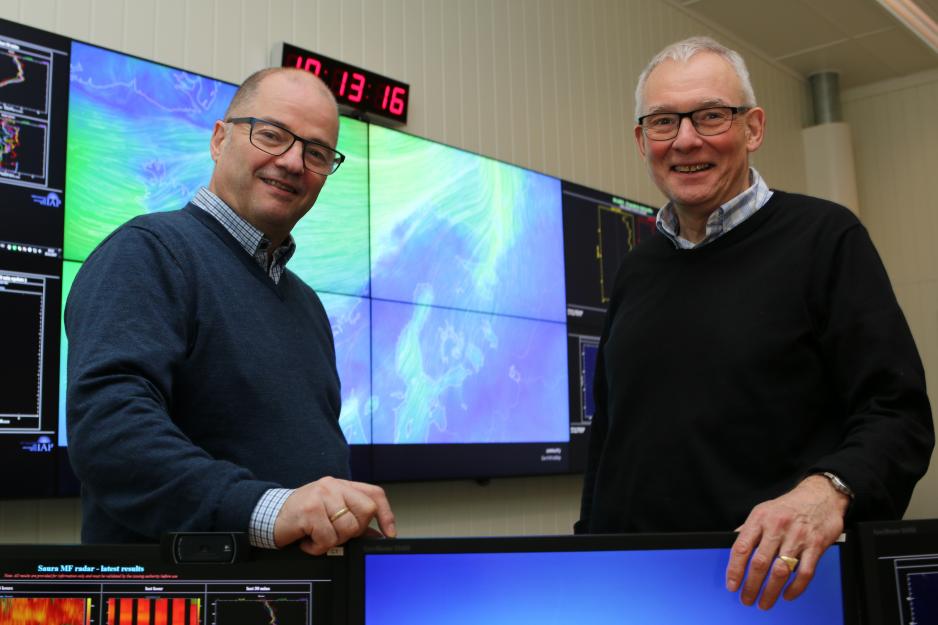 The market is growing exponentially, and Norway is already lagging behind. However, if Andøya Space Center succeeds, Norway may lead Europe when it comes to launching commercial satellites. That may provide 200-300 local jobs and have significant national ripple effects.

The market is growing exponentially, and Norway is already lagging behind. However, if Andøya Space Center succeeds, Norway may lead Europe when it comes to launching commercial satellites. That may provide 200-300 local jobs and have significant national ripple effects.
The plans currently brewed at Andøya, Norway, can clearly be defined as an ambitious High North strategy.
However, if Andøya – and Norway – are to assume this European and international market position, there is some urgency.
- It has to happen quickly, because there are several actors striving for the same. It is a race, says Odd Roger Enoksen, CEO and President of Andøya Space Center (ASC).
- We need resources if Norway is to assume this position. The question now is whether this is a position Norway shall take, continues Andøya Mayor Jonni Solsvik (Conservatives).
A new and unique opportunity
It is dark, windy and freezing outside when High North News meets Enoksen and Solsvik at the ASC facilities near Andenes, Norway. The plane that landed just a short drive away arrived nearly sideways.
Strong gales, ups and downs are well-known phenomena for people in Andenes. During the past year or so, there have been more downs than ups.
Disappointment loomed large when Stortinget, the Norwegian parliament, in November 2016 brought Andenes the 'kiss of death', deciding to shut down Andøya airbase, the municipality's largest single employer with its 700 jobs.
However, that is a different story.
Around the time of the decision to close down the airbase, it also became public knowledge that Andøya Space Center had started working on plans to establish a new rocket launch area.
The plans have, according to Andøya Space Center and Andøy municipality, mostly been warmly welcomed by the local population.
- Andøya is, along with the Azores, probably the place in Europe that is best suited for launching rockets, Enoksen argues.
If things end up like Enoksen and Solsvik hope for, the new ASC project may provide ample opportunities in only a few years.
May become Europe's only base
Enoksen says the development in Europe has a long way to go in comparison with the USA. Asia is also at the forefront of launching satellite-carrying rockets.
Now Enoksen hopes, in partnership with Andenes mayor Jonni Solsvik, to make Andenes Space Center the preferred actor in Europe.
- If we are the first, which we are trying to be, I do not think there will be more such bases in Europe. It would place Andøya and Norway on the European space map to a far higher degree than it is today. It would also be a matter of national importance, as it would develop a sector that is growing and future oriented, Enoksen says.
- It is hard to imagine a future in which we manage without satellites in space. The number of satellites is ever increasing. Soon, we can hardly drive from A to B without having a satellite involved, he says.
Enoksen leads a highly technological center that has about 90 employees from both Norway and abroad, and large, respected customers such as e.g. the NASA.
- I often say that one of North Norway's best kept secrets is that we have such a large space industry, Solsvik says. He has been mayor of Andøy municipality since 1999.
Many and impatient customers
If they succeed, the establishing of a new rocket launch area may bring between 200 and 300 new jobs to Andøya Space Center over the next few years. In the longer term, perhaps even more. It all depends on which supplier – and which nation – that succeeds in the ongoing race for prominence.
ASC receives a constant flow of inquiries fom customers who need launching facilities by 2020. This is where ASC wants to position itself; as a location for launching carrier rockets with up to 30 small satellites – each time.
Today's commercial satellites are smaller and cheaper than the previous generation, both when it comes to production and launching costs. The days when satellite sizes equaled that of a bus are over, at least on the commercial market.
- We have worked on this for more than a decade now, and we see that there is a growing need, Enoksen says.
If Norway decides to go for it, Andøya is an obvious choice, due to both its geographic location as well as the ASC's many years of experience.


The Brits accelerate in Scotland
However, the ASC is – of course – not the only ones by far to see the future prospects of this industry. There are nations and companies across the world who wish to position themselves as suppliers.
In Europe there is, in addition to Andøya, particular the Brits, Swedes, Germans and Portugese who are involved, and the ASC's strongest competitors are located in these countries.
- Great Britain is working quite actively on this, and the British government recently located 50 million pounds to its initiative in Scotland, Enoksen says.
At Andøya, the key issue now is to find out whether and where a new rocket launch base may be placed. Such a base should not be placed too close to inhabited areas, due to security reasons. This means that today's facilities just outside Andenes town are not suited.
The two options currently being assessed as potential locations are Børvågen and Bømyra, both located on the western side of Andøya island, facing the Atlantic Ocean some 37 and 48 kilometers, respectively, south of its northernmost tip and Andenes town.
Andøya island is one out of a very limited number of places in Europe that are suited for launching rockets in northern orbits. Both potential locations mentioned above are suited for this.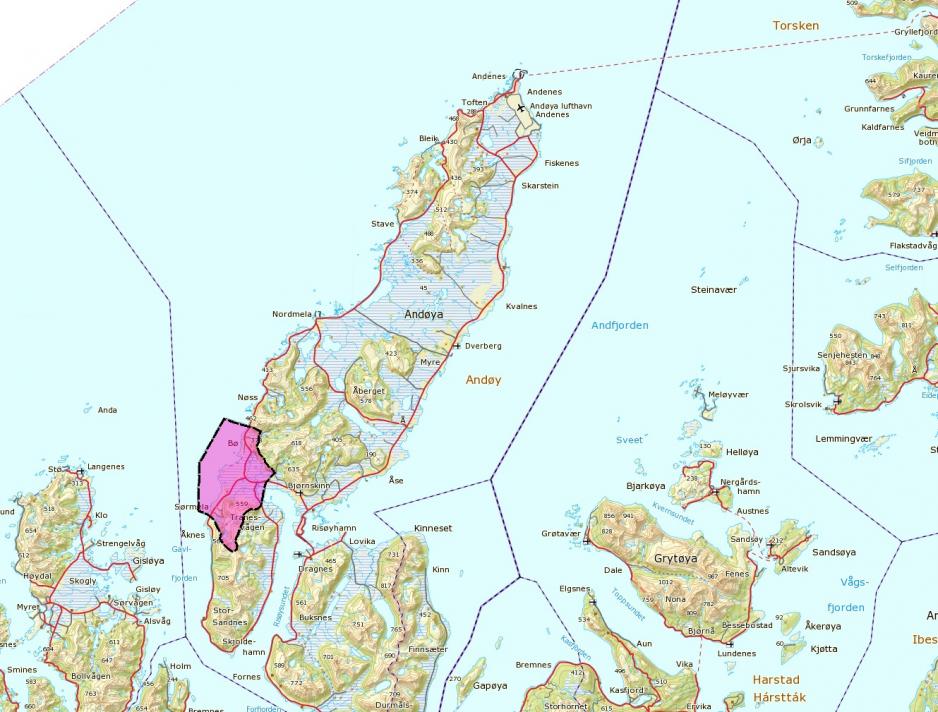 Large and extensive construction project
The magnitude of the project as well as the measures required to establish a potential rocket launch base are so extensive that it will imply significant amendments to the site that is eventually selected to host the base, whichever of the two alternatives it ends up being.
So far, Andøya Space Center had funded most of the planning and investigations itself. At the time of writing, an impact assessment is ongoing, scheduled to be ready by February 2019.
- The consultation process deadline was 15 December, 2017 and now we are looking into the issues that have emerged through that. We are simultaneously working with several European actors to acquire both customers and collaboration partners – and, of course, funding, Enoksen says.
The two area alternatives in question will both undergo an impact assessment focusing on the environment, security, noise, birdlife and fauna. Only in about a year, when the impact assessment is completed, will the initiators know whether or not the construction will take place.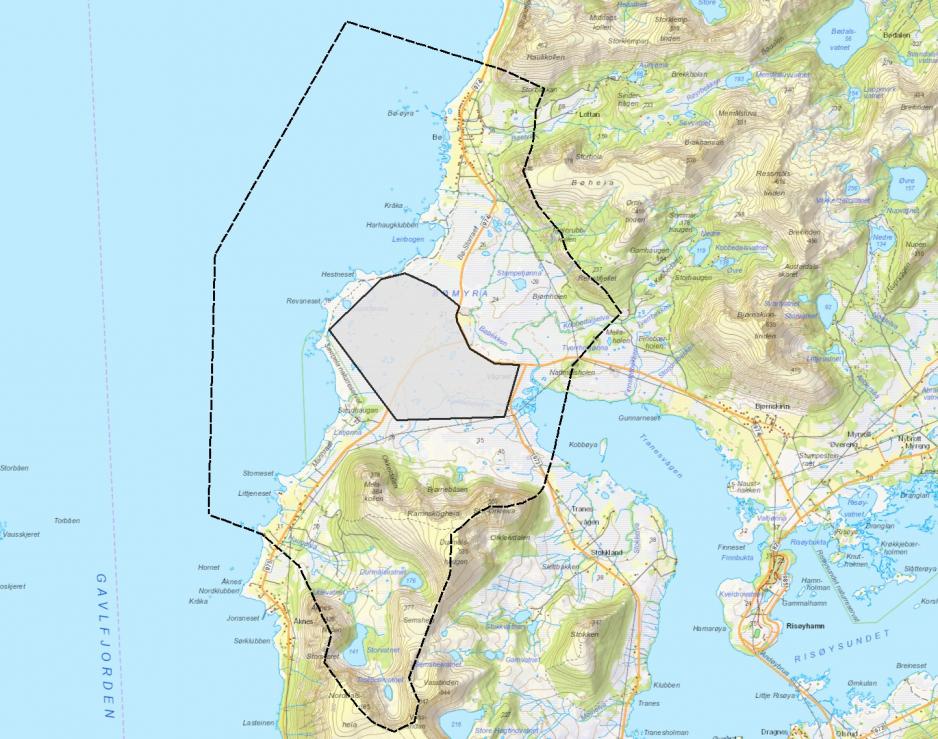 Broad political consensus
So far, both Enoksen and Solsvik are fairly confident that the wind is blowing their way.
- We will, however, have to demonstrate through our work in 2018 that we can maintain the security of the population – and the environment – in a good way. We must also demonstrate that this is a commercially viable project, however, we believe we are able to do just that, Enoksen says.
As per today, the ASC is in touch with five large international companies interested in collaborating with them about the project.
- We will hopefully know which one to collaborate with in a few months' time, he says.
Both Enoksen and the mayor experience having political backing for their project, both from the County Government, from the national Government and from the Storting (Norwegian parliament).
- We will need pretty heavy funding at some point in order to make this happen, however, I believe we will get that, Enoksen says with optimism.
It is hard to make assumptions so early on about the exact costs of constructing a new and massive industrial complex. Not only will it depend on which of the two sites that is selected; it will also depend on what it will cost to expand existing infrastructure. It is, nevertheless, a matter of significant investments.


Cost frame of some NOK 1 billion
- We do not have exact figures yet, because that is part of what we are to explore during the assessment period. However, we are probably speaking of up to one million Norwegian kroner over some period of time, Enoksen says.
The two alternative locations in question, Børvågen and Bømyra, have different properties and during this year, the ASC and the municipality authorities have to decide on which of the two that is best suited for this development.
- A development like this will change the everday life of people living nearby as well as on Andøya island in general. An industrial area will be established in the middle of an area that today consists of unspoiled nature. The fact that this is happening will both be assessed and taken seriously, because it will not be something that goes away with time. It will remain there for decades to come, so we have to do a thorough job, Enoksen says.
Solsvik agrees, and he therefore argues that it is a good thing that the project's opponents voice their dissatisfaction now, so early on in the process.
As per today, neither Enoksen nor Solsvik have any preferences for one location over the other. In the end, security will decide, they say. Many factors are included in the considerations, everything from the risk of explosions to potential limitations on the size of the types of rockets to be used.
- The population's security is always the # 1 priority, both here where we are today as well as in general. If we cannot do this safely, it will not be done at all. We will not expose people to danger in any way, Enoksen emphasizes.
- We must be able to do it within the existing frames, and perhaps rather look at the opportunity to introduce restrictions on how launches should take place, he says and adds that it would for instance be possible to change the course of a rocket even after a launch, however, it will be more fuel and cost consuming.
The airport is an asset
Andøya Space Center also has another competitive advantage; its proximity to a well developed airport with a long runway.
- The most recent thing is using planes to lift rockets in order for them to be dropped before they launch. Andøya airport is extremely well suited for this kind of rocket launch. Andøya island is thus one of the few places where it is possible to establish a more traditional rocket launch site and to also use airplanes, so that is something we are looking deeper into.
The parliament has also, following its decision to shut down Andøya Airbase, been clear that the military part of the airport should be maintained. Not only to land passenger planes, but also because the airport has a standing accreditation for receiving large cargo planes.
As recently as in the past year, the world's largest cargo plane as well as a couple of jumbo jets have landed at Andenes airport.
- Is it much that needs changing when it comes to infrastructure in order to establish a new rocket launch base?
- Some things will have to be done; however, we will mainly have to use boats for that. We will depend on a large airport too, in order to take down large cargo planes. However, it will first and foremost be a question of using boats to go to the port of Risøyhamn (on the south-eastern side of the island, ed.) as well as other transportation from there. The roads should be in a fairly good condition, but of course we have to rethink everything from water supply to power and energy supply, as well as many other factors. This is all part of our ongoing work, Enoksen says.


Short time limit
The impact assessment must be ready before a decision to invest is made. The plan is for the assessment to be processed by the municipality council in February 2019.
- We aim to have both funding and collaboration partners ready by then, so that we can start investing as soon as possible after that. It is a tight and demanding schedule, however, we just have to make it, say the CEO/President and the Mayor.
Many of ASC's customers want to launch before then, even as early as next year, however, the ASC will not manage to be that quick.
- We hope to have come so far by the end of 2020 that we can make a soft start, however, that requires things to run smoothly until then, says the 'rocket master' himself.
Andøya Space Center - Then and now
Hope for long-term offshoots
It remains to be seen whether Enoksen and Solsvik succeed with their project, however, they are strong in their faith. In addition to years of experience since the establishing of the ASC in the early 1960s, the island's geographic location is repeatedly proving to be a competitive advantage.
However, says Mayor Solsvik, serious and engaged:
- This is far more than an Andøy issue. This is a national issue and a High North issue. That applies to the whole project and the entire activity here, he says.
- It is hard to say what it may lead to in the longer term, offshoots and other developments. But the proximity to such a base will be an advantage that allows us to envision attracting others to the Andøy island, for instance those wanting to establish activities in Space, Aero-Space or drones. There are definitely exciting years ahead, says the 'rocket master' himself, CEO and President Enoksen.
- From that perspective, I kind of wish I was 20 years younger, he says with a laugh.